Ronnie O'Sullivan
Five times world champion snooker player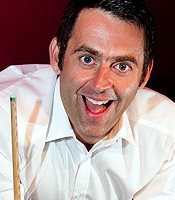 About
Ronnie O'Sullivan is a five times World Champion snooker player. He has won 26 ranking titles, including 4 UK Championships, 3 minor ranking titles and 26 invitational professional tournaments, among them 5 Masters titles.

Turning professional in 1992, his entertaining, fast and attacking style of play earned Ronnie his nickname, The Rocket, and has endeared him to millions of fans around the world. The epitome of Ronnie's game is probably the famous 147 that he completed in 5 minutes 20 seconds against Mick Price at the World Championship in 1997, the fasted maximum ever in snooker history.

Ronnie O'Sullivan is considered by many fellow players, pundits and fans, to be the most naturally gifted player ever to grace snooker, a "genius". Seven times World Champion and most successful ever player Stephen Hendry has repeatedly branded him as the best player in the game.

Ronnie was born in Wordsley, West Midlands, but he grew up, and still lives in Chigwell, Essex. When he was 16, his life was taken upside down when his father was arrested and, later jailed, for murder. Not long after that, his mother was also arrested and jailed for tax evasion. Such events would have been distressing for any teenager and the fact that Ronnie was already a star in his sport didn't make it easier as he had to deal with it all under the scrutiny of the media. There is little doubts that those circumstances are at the root of his well documented issues with depression, drugs and alcohol.

Ronnie, though, is a fighter and has sought solutions to his problems and tried to better himself throughout his adult life. He is currently working with Dr Steve Peters, the well know sport psychologist who helped the British Olympic cycling team and author of "The Chimp Paradox". He is a keen long distance runner and runs for Woodford Green with Essex Ladies. His personal best over 10 km is 34′ 54". He insists that running helps him to find a better balance and to keep a clear head.

Ronnie loves all sports, but is particularly interested in athletics, boxing and tennis. He's a massive Federer fan. He loves cars and even participated in the Volkswagen Racing Cup at Silverstone using a Volkswagen Jetta with the car number "147″. He also enjoys cooking and particularly loves – to cook and eat – Chinese food. He's also "famous" for his savoury curries.

Ronnie O'Sullivan is the author of two books, written in collaboration with Simon Hattenstone and published by Orion: "Ronnie, the Autobiography of Ronnie O'Sullivan" (published 2003, second edition 2004) and "Running: The Autobiography" (published 2013).
Books and DVDs
Below you'll find products by Ronnie O'Sullivan which may be available for purchase. Click the image to view on Amazon's website. Clients often like to purchase books and other merchandise as autographed give-aways at events where Ronnie O'Sullivan is appearing. For bulk purchases, please speak with the Booking Agent handling your event.
Tags for Ronnie O'Sullivan
You may also be interested in...