Dennis Taylor
Snooker legend (World Champion 1985) and keen golfer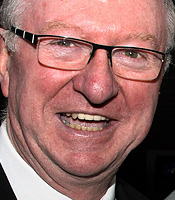 About
Dennis is an extremely humorous character and his after dinner speaking and his trick shot displays are in constant demand. Until last season he was the only player to remain in the top 16 for 22 years. He has won titles as far a field as Asia through Europe and Canada.

Dennis Taylor was born on 19 January 1949 and has been a professional for some 24 years. His glittering career saw him win the World Title in 1985 in an unforgettable match with Steve Davis which he won 18-17 on the final black at 10 minutes past midnight. That final recorded the highest ever BBC or, indeed, any television audience in the United Kingdom of over 18 million after midnight. I believe it still stands as sporting record for television audience in sport.

Dennis' great love away from snooker is golf, and every spare minute is spent on the golf course. Music and motor racing are other great loves and, indeed, in the past year or two has taken part in one or two celebrity racing events.

In his home country of Ireland, he is a sporting legend and his fellow professionals hold him in high esteem.

1985 Embassy World Snooker Champion
6 Times Irish Champion
Benson & Hedges Master Championship
Rothmans Grand Prix Champion
Twice Canadian Open Champion
Kit-Kat World Champion of Champions
Japanese Master Champion
Australian Masters Champion
Testimonials
Considering booking Dennis Taylor for your event? You may find the following client testimonials and comments helpful. To enquire further about Dennis Taylor for corporate and private bookings, click here or call us on +44 (0)1372 361 004.
Dennis was great and contributed to a really enjoyable night. He was generous with his time and naturally friendly with our guests. He gave a terrific speech and received a rousing round of applause. Lots of people mentioned to me how good they though he had been. I wouldn't hesitate to recommend Dennis.
Books and DVDs
Below you'll find products by Dennis Taylor which may be available for purchase. Click the image to view on Amazon's website. Clients often like to purchase books and other merchandise as autographed give-aways at events where Dennis Taylor is appearing. For bulk purchases, please speak with the Booking Agent handling your event.
You may also be interested in...