Shaun Keaveny
BBC Radio 6 Music Presenter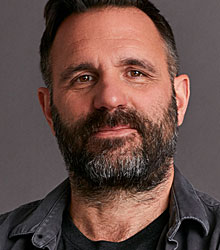 Copyright © BBC
About
Shaun Keaveny is an experienced radio DJ and television presenter. He took over the BBC Radio 6 Breakfast Show from Phil Jupitus in 2007, and hosted it until December 2018, when he moved to the afternoon show.

Often standing-in for Dermot O'Leary on his Saturday Show, he is also a regular pundit on Richard Bacon's BBC 5 Live programme.

Shaun joined the BBC in 2000, working on the Good Morning Britain breakfast show as a warm-up for Anne Diamond, and later presented the weekday afternoon show (Monday-Thursday) and the Friday breakfast show on XFM until 2006. At night, he performed stand-up comedy under the stage name of Leigh Buffalo.

His first book, R2D2 Lives In Preston, was published in 2010 and is a compilation of little known facts relating to various towns throughout the United Kingdom, advised by listeners to his radio show in a feature entitled "Toast the Nation".

In 2006, he bought a small cider farm in Somerset and launched his own brand of craft cider, Keaveny's Krackers, the following autumn to critical acclaim. It was nominated for the British Cider Association's 'Second Best Cider Award - 2008'.

Having fronted the Isle of Wight and Latitude festivals for Sky, and also the Mercury Music Prize for BBC2, he is recognised for his authoritative coverage of live-music events.
You may also be interested in...