Rupert Everett
Acclaimed award-winning British actor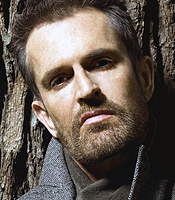 About
Rupert Everett is one of Britain's finest award-winning actors and has appeared in many high profile Hollywood movies including My Best Friend's Wedding, The Madness of King George III, An Ideal Husband, The Next Best Thing, Shakespeare in Love, St Trinian's and, more recently, the Shrek sequels.

He was educated at Farleigh School, Hampshire, and later by Benedictine monks at Ampleforth College, Yorkshire. Like so many wannabe thespians, Rupert left school at 16 and ran away to London to become an actor. After being dismissed from the Central School of Speech and Drama (University of London) for insubordination, he travelled to Scotland and got a job at the Citizens' Theatre in Glasgow.

Rupert Everett's acting break came in 1981 at the Greenwich Theatre and later West End production of Another Country, playing a gay schoolboy opposite Kenneth Branagh, followed by a film version in 1984 with Cary Elwes and Colin Firth. Following on with 1985's Dance With a Stranger, he began to develop a promising film career, and around the same time he recorded and released an album of pop songs entitled Generation of Loneliness. Despite being managed by the largely successful pop svengali Simon Napier-Bell (who also managed Marc Bolan, launched and managed the band Japan, and steered Wham! to international fame), the public didn't take to his change in direction. The shift was short-lived, and Rupert only returned to pop indirectly by providing backing vocals for his friend Madonna many years later, on her cover of "American Pie" and on the track "They Can't Take That Away from Me" on Robbie Williams' Swing When You're Winning in 2001.

Rupert's acting career was revitalised by his award-winning performance in My Best Friend's Wedding (1997), playing Julia Roberts' gay friend. In 1999, he played Madonna's best friend in The Next Best Thing. He has since appeared in a number of high-profile film roles, often playing the lead role. Also in 1999 he starred as the villainous Sanford Scolex/Dr. Claw in Disney's Inspector Gadget with Matthew Broderick.

In recent years, Rupert Everett has returned to his acting roots appearing in several theatre productions; He made his Broadway debut in 2009 at the Shubert Theatre to good critical review, performing in a Noël Coward play, Blithe Spirit, starring alongside Angela Lansbury.

For corporate audiences, Rupert Everett presents a hilarious, insightful and entertaining 'In Conversation With...' style after dinner talk based on the first two volumes of his memoirs, 'Red Carpets and Other Banana Skins' and 'Vanished Years' - a series of encounters and stories from his colourful life, the celebrity circuit and beyond. His first memoir was hailed as a classic, with Rupert compared to Evelyn Waugh, David Niven, Noel Coward and Lord Byron. And the second was the Sunday Times's Memoir of the Year.
You may also be interested in...