Roger Tilling
The voice of University Challenge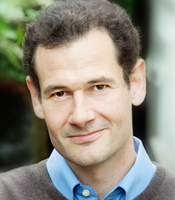 About
Roger Tilling is one of the most well-known and trusted voices on British television. He is the legendary voice of BBC's University Challenge; the world's longest-running TV quiz, pronouncing names like Singanayagam, Tyszczuk-Smith, Garčević, Bhattacharya, Warnakulasuriya, Drnovšek-Zorko and Papaphilippopulos at lightning speed and live in the studio. The show is watched by over 3 million viewers nationwide every week. With over 20 years of television and radio experience, the UK's television networks have made Roger their first port of call when a "Voice of God" delivery is needed for major television events and primetime shows, from announcing Her Majesty The Queen at The Royal Variety Performance to The British Soap Awards, and Never Mind The Buzzcocks to Top Gear.

He began his career in independent radio, presenting shows that were networked across many regions of the country. During that time he presented on every radio airshift around the clock. In 1997 he moved into television to become a live announcer, and has voiced the trailers of BBC1, BBC2, ITV, Universal, Channel 4, Channel 5, Sky, MTV, Nickelodeon and Cartoon Network.

He's not just a one-voice wonder. His vocal acting range and versatility means that he is highly sought after for providing character voices for computer games, animated productions and movie trailers. His television commercials include everything from I Can't Believe It's Not Butter to Shreddies to Peppa Pig. Roger has also narrated over 100 documentaries for BBC, ITV and National Geographic. In 2014 he supported his University Challenge colleague Jeremy Paxman vocally in his Edinburgh Fringe Festival show PAXO.

Having originally graduated with a degree in Aeronautical Engineering from the University of London and subsequently becoming a private pilot, Roger continues to follow all aspects of science, technology and aviation. He also has a strong passion for travelling and his globetrotting has taken him all over the world, including places off the beaten track such as North Korea.

Roger Tilling is available for awards hosting, quiz hosting, presenting and Voice of God for awards ceremonies, corporate events, and conferences.
Testimonials
Roger Tilling, I am happy to say, is the ultimate professional voice. I have known very few people with his ability to "get" the context immediately and adapt not just his style, but his tone and his delivery to order. He is, as they say in the classics, a "godsend" to the producer or director who knows what they want and doesn't want to waste time auditioning or retaking. Roger provides everything you need in the one great package that he is. He is never less than reliable, completely professional and possesses total understanding of every media discipline. I have no hesitation whatsoever in recommending him most highly for ANY job that requires a decent set of vocal chords and a willing and enthusiastic larynx to go with them!
As global creative director for NBC Universal, I consistently used Roger for global campaigns, sales reels and creative work and have always found him to be smart, courteous and professional. As well as having a great voice, Roger has a great, friendly attitude and I can heartily recommend him
His performance both amazed and entertained us, and I look forward to working on future projects with Roger.
Roger has worked on many different voiceover projects for us, providing a range of excellent voices, including corporate, commercial and character voices. Roger is always highly professional and enthusiastic and a pleasure to work with.
In all the time that I have worked with Roger, I have found him to be professional, on time and most importantly he has a wonderful adaptable voice that we used for the British Airways onboard inflight entertainment promotions, I would have no hesitation in recommending Roger.
I had the great pleasure of working with Roger at Sparrowhawk Media. Roger is the consummate professional and a joy to work with. I would recommend him most highly.
Roger has one of the finest voices I have ever worked with. Add to this his intelligence when delivering a script. He provides any director the complete package. I have used Roger's talents on a variety of projects ranging from central heating through exhibition training.
Roger's talent as a performer is unquestionably extraordinary. Versatile, imaginative, witty and professional; Roger is head and shoulders above the typical bland, soulless rent-a-gobs. But I think what really puts Roger in a league of his own is the wider array of broadcasting skills, know-how and insight that he offers. He's a genuinely creative writer, an exemplary project manager and universally well loved team player. Working with Mr Tilling is a real joy. I highly recommend him. Personally and professionally, he is a very special chap.
You may also be interested in...