David Vickery
Presenter, host and voice over artist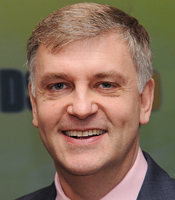 About
David Vickery provides a cool, unflappable "safe pair of hands". He demonstrates judgment and firmness, through a ready wit, to progress argument and stimulate debate, and to ensure yours is a stimulating and memorable event. He is also willing to help enhance performances of the "home" speakers where requested - from providing advice on scriptwriting to coaching participants in delivery on a one-to-one or group basis. David knows how important your event is to you and will work alongside you to understand your intentions.

A brief career in theatre led David to television and a sustained career in the presentation departments of most major UK broadcasters including Channel Four, Discovery Channel, BBC World Service TV and Channel Five on which his was the opening voice.

Recently, David's TV experience has taken him across Europe and North America as director and presenter of business profiles, talking to business leaders, for broadcast on Euronews, Star TV and CNBC.

Interviewing has always been one of David's strengths, for broadcast he co-hosted consumer affairs programme HIGH STREET produced by Granada TV and for Channel Five's Espresso his companion on the couch was Edwina Currie. David's corporate clients include Qinetiq, TDK, Sainsbury's, Boots, Nikken, IVCA, MFI, Orange, Digital and more.

Hosting live events at the London Palladium, Alexandra Palace and The Grosvenor House has given David some of the greatest pleasure in his career.

To date, David has voiced over 1600 television documentaries for Nat Geo, Discovery, History Channel, Channel 5, Biography Channel and Crime and Investigation Network.
Testimonials
Your professionalism in handling interviews with members of the United States Congress and a Pentagon official brought out a clear and succinct presentation of the importance of Thorium Power's technology. I am completely satisfied with the profile. It was a pleasure working with you.
David has presented at a range of IVCA events including our Post Awards Screenings and Multimedia Showcase. He has also been a presenter of our Biz-Nets held at BAFTA and our main IVCA Awards at The Grosvenor House. This is one of Europe's most prestigious occasions for corporate communications and caters for over 1,000 industry leaders, members of the media and Government representatives. He has brought authority, charm and a high level of business understanding to all these events and his contribution is the central factor in their success. David is a highly experienced, flexible and confident professional who is ideally equipped for both corporate and broadcast media.
I am very grateful that, as the face of Qinetiq, you were able to provide both intelligence and warmth to the interviews and commentary. Your ability to act and react quickly in those bizarre, unpredictable circumstances didn't hurt either! Once again, thank you for your tireless contribution and I look forward to working with you again.
David Vickery stepped in a short notice to chair an important debate that the Prostate Cancer Support Federation were holding on a very controversial and technical issue, namely the benefits and risks of testing for prostate cancer. Contributors to the debate were included top-flight clinicians and patients, many of the whom with very strong views on the topic. From the moment he became involved, David showed great professionalism and understanding, and was responsible for adopting an approach which yielded a significant measure of consensus that would not otherwise have been achieved. As a result, we believe that the stage is set for some very useful advances in this difficult area.We are very grateful or the work he put in to this important event, and would unhesitatingly recommend him.
We had the pleasure of working with David Vickery at a 50th anniversary celebration for a global financial company event at The National Gallery. He hosted the evening by introducing guest speakers, entertainment and tours on stage, and made Voice of God announcements throughout. His professionalism, enthusiasm and faultless execution was an absolute joy and I would not hesitate in recommending David as an MC/host
We use David Vickery as he is the ultimate professional in all aspects of the evening. He is always prompt, prepared, practised and well presented, but most of all his voice is the exact measured, dignified and well rounded tone that provides the gravitas, control and authority that the event needs and requires.
You may also be interested in...