Roy Sheppard
Former BBC news anchor, world-class conference moderator, interviewer and author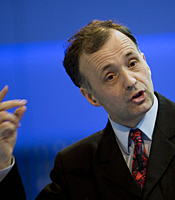 About
Roy Sheppard is a world-class conference moderator, a highly-experienced speaker and a well-respected author. He is the acknowledged European expert on building profitable business relationships through networking and referrals and he has spoken at conferences internationally for many of the world's largest companies.

A visiting lecturer at Cranfield University's full-time MBA course since 2001, Roy's specialist subject and strategic business approach are held in high regard.

Even though Roy Sheppard is widely respected for his business acumen, his early career began in television and radio. Working both regionally and nationally for the BBC, he presented on music and interview based programmes, including the Sony Award winning programme 'In the News' on BBC Radio 4. His first book 'The DJ's Handbook', a broadcasting/radio textbook, was endorsed by Johnny Beerling, the former Controller of Radio 1.

Whilst Roy was also involved in production and script writing, his main area of expertise was in live television and he regularly worked alongside other notable presenters including Jeremy Paxman, Eamonn Holmes, Ann Robinson and the late Jill Dando. From 1985-91, he was an anchorman of the early evening news for the BBC in London where he consistently proved his ability to perform under pressure.

As a highly sought-after presenter, Roy was asked to work on many corporate videos and invited to compere conferences. Although initially employed as a presenter, his thirst for a greater understanding of business and what drives people led to an enormous amount of study and the ultimate development of his own ideas. In 1995 he was asked to lecture on a course for the International Visual Communications Association - his series of 1-day seminars focussed on the importance of networking and how to become a more effective freelancer.

Since 1995, Roy Sheppard has established a first-class reputation for his knowledge and he repeatedly works alongside senior executives from some of the world's most respected global corporations. He is regularly invited to join production companies in the initial stages of conference structuring where his input has proven invaluable to the success of the event.

Roy Sheppard is passionate about how a systematic, effective and ethical approach to relationship building in business can give any company a competitive and highly profitable advantage. His ideas have been consolidated in a number of books and published articles - 'Meet Greet and Prosper' and 'Rapid Result Referrals' have alone sold more than 20,000 copies each.
Testimonials
Considering booking Roy Sheppard for your event? You may find the following client testimonials and comments helpful. To enquire further about Roy Sheppard for corporate and private bookings, click here or call us on +44 (0)1372 361 004.
To keep such an international group of executive search professionals interested and motivated throughout the day takes some doing. We are, by nature and through what we do as a profession, a fairly cynical bunch of people who have heard it all before. To bring new ideas and maintain their interest over such an extended period is a mark of your professionalism in terms of knowing your business, thorough preparation and sensitivity to different situations. Well done.
Roy's presentation to my team was exceptional and hugely thought provoking. I would have no hesitation in recommending him.
Roy is brilliant at building relationships and explaining key concepts in a simple and pragmatic way which is highly effective. He is a lively trainer who fully engages his audience throughout his sessions.
How can you summarise a man with so much energy, inspiration, ability to break down barriers, ability to break traditional ways of thinking, ability to get boring old managers who have done it the same way for years off their seats chatting and trying out new ideas and loving every minute. I can't think of any other way to say it.
Books and DVDs
Below you'll find products by Roy Sheppard which may be available for purchase. Click the image to view on Amazon's website. Clients often like to purchase books and other merchandise as autographed give-aways at events where Roy Sheppard is appearing. For bulk purchases, please speak with the Booking Agent handling your event.
You may also be interested in...