Fernando Tiberini
Multilingual presenter, voice-over artist and language consultant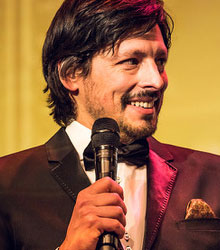 About
Fernando Tiberini is a multilingual live presenter and host for international events and trade shows, conferences, awards dinners and seminars.

Fernando Tiberini combines his fluency in six languages (English, German, Italian, French, Spanish, Portugese) with a natural affinity for presenting and a keen sense for the finer nuances of cultural interactions. His style is dynamic and engaging, drawing from experience across a range of international events. For example, Fernando was one of the Official French and English Announcers during the London 2012 Olympic Games.

As an established voice-over artist and language consultant he voices and supervises the multilingual versions of corporate and educational videos, television and radio commercials, language courses, video games, cartoons, toys, documentaries and fiction films, museum and city guides and other multimedia projects.

Fernando also has the ability to integrate additional foreign languages into presentations to adapt them to local audiences around the world.
Testimonials
Fernando Tiberini hosted our Volvo dealer conferences and related workshops in Bangalore and Jakarta. He presented these in English whilst skilfully incorporating the respective local languages. Fernando knows how to deliver content competently, while engaging and maintaining the interest of his audience... His performances were always to our complete satisfaction and we highly recommend him without reservation.
Fernando really delivered for us at our principal European trade show IFA in Berlin... to conduct multiple language interviews over a space of 24 hours. A consummate professional, he delivers immediate value and we can highly recommend him.
Fernando Tiberini tackles the job of presenting with an enthusiasm and professionalism that both infects and assures. We had a little over 90 countries at our event, and Mr. Tiberini found linguistic solutions for communicating with most of them. In a world where brand communication is about successful dialogue, Fernando ensured that we were understood, and that we could understand.
During one of our recent international conventions, Fernando facilitated our gala dinner in more than five languages. His energy was infectious, his stage presence captivating and he set the tone for a relaxed and convivial evening.
Tags for Fernando Tiberini
You may also be interested in...