Trish Lynch
TV presenter, live host and conference facilitator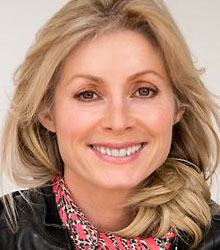 About
Best known for her travel-show reporting first at CNN for 'Hotels of the World' and most recently for Sky Travel. Trish Lynch is also much in demand as a live host/facilitator for conferences and product launches. She has been involved in a variety of topics of television, having covered golf and fishing in Ireland to buying property abroad for Financial Focus.

Recent clients include Motorola, BBC, Selfridges and Land Rover and Trish is a regular presenter for Business TV for companies such as Norwich Union, Abbey, Post Office and Accenture. Trish is equally at home with live work or in front of the camera and to ad lib is in the genes of all Irish people!

Popular as both a TV presenter and live host/facilitator for conferences and product launches, recent work has included presenting for Overseas Property TV, Sky Travel and hosting live product launches for Motorola, Nissan and Land Rover.
Testimonials
We used Trish Lynch as the presenter for the McCormick Flavour Group Conference and found her highly professional, totally charming, and able to adapt to last minute changes in a very impressive and polished manor. The Vice President applauded Trish for a job well executed. RBA EVENTS have no hesitation in recommending Trish Lynch as a top presenter.
Trish not only gave an excellent introductory speech but also presented some thirteen awards to the winners and runners-up. She is competent, confident and full of personality. She also understands how to 'manage' an audience. I would thoroughly recommend her.
We were extremely pleased with Trish's performance at the awards. She spent the whole day studying the work and reading through the script thoroughly. She looked stunning and was charming and conducted the awards extremely well. She was completely unpretentious and I can only apologise that the conditions for changing were not particularly nice but she made no fuss about it – thanks for being so reasonable about that! We would be keen to ask her back next time.
Feedback on the conference has been superb and people are saying it is the best yet. You were a massive part of that and we all really enjoyed working with you. The feedback we received about your hosting was fantastic too. Many thanks once again for all your support during our conference.
You may also be interested in...