Amanda Lamb
Former Estate Agent turned TV presenter - "A Place in the Sun"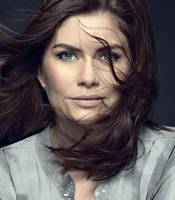 About
Amanda Lamb is best known as the presenter of the phenomenally successful A Place in the Sun for Channel 4 and was the face of Scottish Widows for 10 years. She is co-presenter of Market Kitchen for UKTV, Family Supercooks and My Flatpack Home.

Amanda is a regular on Sky One's Angela and Friends and The Wright Stuff on Five. Amanda was also the presenter of Twenty Best and Housetrapped in the Sun for Channel 4 and Hot Shots, a photography series for Discovery Real Time, one of the presenters of TV Mail for the BBC and other work includes Ideal Home for Channel 4 and Surprise Wedding for LWT.

Born in Portsmouth in a spot that is now the M27, Amanda was an estate agent for four years and then a model for six years. Amanda has appeared in commercials for companies as diverse as Gossard, Oil of Olay and Remington.

As an estate agent, her favourite story is when she arrived at a house to show a prospective buyer around it - it was very untidy - with take-away cartons and dirty dishes everywhere - and so she tidied before showing it to her client. When she returned to the office she discovered that a different agent had sold the property two weeks previously.

Amanda Lamb writes a regular column for A Place in the Sun Magazine, was the Travel Editor for Reveal Magazine and appears regularly at A Place in the Sun Live.
You may also be interested in...