Phil Spencer
Presenter of Channel 4's "Location, Location, Location"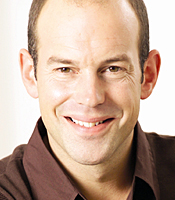 About
When Phil is not running his highly successful Property Search company, Garrington Home Finders, with his business partner and co-presenter, Kirstie Allsopp, he presents the Channel 4 property series Location, Location, Location, Relocation Relocation and Location Revisited.

As a recognised and respected property professional, Phil's experience of business and presenting, coupled with a warm and engaging manner, have also made him a popular corporate choice with clients including British Gas, HM Land Registry, and Norwich Union.

Phil also writes a property column for LONDON Agents South Magazine, has appeared in Home Buyer magazine and Night & Day in the Mail on Sunday and has a monthly column in The Sunday Times.
Books and DVDs
Below you'll find products by Phil Spencer which may be available for purchase. Click the image to view on Amazon's website. Clients often like to purchase books and other merchandise as autographed give-aways at events where Phil Spencer is appearing. For bulk purchases, please speak with the Booking Agent handling your event.
You may also be interested in...