Liz Bonnin
Science and nature presenter (Bang Goes The Theory, Stargazing Live)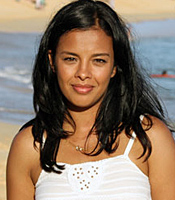 About
Biochemist and wild animal biologist, Liz Bonnin kick-started her TV career as an entertainment presenter on BBC1's cult TV show Top Of The Pops before returning to her science roots.

Liz had always been interested in biology and chemistry at school, and she went on to study Biochemistry at University and later completed a Masters in Wild Animal Biology and Conservation. Liz's main interests during her studies were animal behaviour and intelligence and big cat conservation. She set up and carried out a research project on the diet of tigers in Bardia National Park, Nepal, which saw her come first in her class.

Liz's TV career has drawn heavily on her academic expertise. In BBC Two's Horizon Liz presented new scientific research raising hard questions about zoos. She has also filmed a wildlife series for BBC One about animal migrations called Nature's Epic Journeys, which broadcast in May 2016. Liz presented the hugely successful Big Blue Live series in Monterey, California for the BBC, and for PBS in the USA. Other TV credits include wildlife and animal behaviour programmes Super Smart Animals, Animals in Love, Animals through the Night: Sleepover at the Zoo, Operation Snow Tiger and Animal Odd Couples; science series Horizon, Stargazing Live and Bang Goes the Theory; documentaries Egypt's Lost Cities, Museum of Life and Science Friction; and ITV's popular Countrywise.

Liz expolored her ancestral roots in series 13 of the popular Who-Do-You-Think-You-Are? on BBC One.

In addition to her TV work, Liz is a conference facilitator and awards host, and has MC'd various events, including the UK's National Science and Engineering Competition Awards and the Natural History Museum's prestigious Wildlife Photographer of the Year Awards
Video
Click below to watch video footage of Liz Bonnin. To enquire further about Liz Bonnin for corporate and private bookings, please click here or call us on +44 (0)1372 361 004.
Books and DVDs
Below you'll find products by Liz Bonnin which may be available for purchase. Click the image to view on Amazon's website. Clients often like to purchase books and other merchandise as autographed give-aways at events where Liz Bonnin is appearing. For bulk purchases, please speak with the Booking Agent handling your event.
You may also be interested in...