Susan Bookbinder
TV presenter and broadcaster (LBC 97.3, TalkSport, SKY, GMTV, BBC, ITN)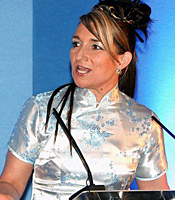 About
Susan Bookbinder is a television and radio broadcaster with over 20 years' experience in the broadcasting industry, both nationally and internationally. She is also a highly skilled media trainer who has shared her broadcasting secrets with international business and political leaders and the top executives of blue chip companies.

Currently reading The Morning News on London's LBC 97.3 and then on the Breakfast Show with Nick Ferrari, Susan has a proven track record in the broadcasting industry. She has worked as a news presenter for leading television networks including the BBC, ITV, Channel 4, Sky, Reuters and GMTV. She has covered many groundbreaking stories such as the fall of the Berlin Wall, release of Nelson Mandela, the downfall of Margaret Thatcher, both Iraq wars, numerous IRA bombings, the impeachment proceedings against President Clinton and she announced the death of the Queen Mother for the BBC.

Susan became a household name as the voice of the fans on BBC Radio's biggest football phone-in 606, and was the first woman to read the classified football results on British national radio. She also co-hosted the popular drive time programme, Sport on 5 on 5 Live with Jonathan Pearce.

Susan Bookbinder is a highly sought-after presenter for all kinds of charity and sporting events and product launches. She is also an authoritative conference facilitator and has chaired debates and events for government agencies including the Sector Skills Council and the National Housing Federation.

Susan Bookbinder is regularly employed as an after dinner host at high profile events and she has introduced numerous guests including Sir Geoff Hurst, John Barnes, Ray Clemence and David Seaman.
Testimonials
Susan Bookbinder brought professional excellence, humour and passion to the podium when hosting our annual dinner and introducing Sir John Major and gave relevance and confidence to the media training of our senior officers. We would wholeheartedly recommend her to anyone for both media training and public speaking.
Experience and authority.
An excellent presenter - enthusiasm and professionalism.
Tags for Susan Bookbinder
You may also be interested in...