Lisa Aziz
Radio journalist (LBC 97.3) and broadcaster (SKY News, ITV, CNBC)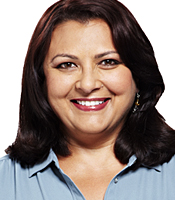 About
Lisa Aziz is a highly-experienced newsreader and currently presents The Morning News on LBC 97.3 every weekday at 6.30am.

Lisa Aziz had her first broadcasting experience while studying at London University for a BA (Hons) in History of Art and Religious Studies. She made two appearances on LBC and, after completing her degree course, she joined Radio City in Liverpool. Her television career began a year later when she moved to Bristol, working with BBC TV West on their local magazine programme. In 1985, she moved to HTV West as a news reporter/presenter on their nightly news programme. Two years later, Lisa began co-presenting HTV's award-winning current affairs programme The West This Week.

In 1988, Lisa Aziz moved to TV-am, starting as a senior reporter and moving to co-present the Sunday morning current affairs programme, before becoming the main daily news presenter in 1989. Her last two years with the station saw Lisa spread her wings even further, with travel feature reports and news reports of the cyclone that hit Bangladesh.

This various list of duties culminated in Lisa winning the 1992/93 "Presenter of the Year" TRIC Award, adding to her 1989 "Asian of the Year" Award from the Asian community and the "Achievement Award" from the Asian business community she received during the same year.

Lisa Aziz has also presented Big Talk on BBC2, an eleven part series of half hour interviews with heavyweights from the world of politics, current affairs and business as well as East, also on BBC2 on issues related to the Asian community. At the end of 1999, she co-hosted the prestigious Asia Awards on BBC2 and in 2000 she presented the EMMA Awards for Carlton (The Ethnic Multicultural Media Awards).

After TV-am, Lisa worked for BBC World Service Television and presented Financial Times Business Daily for NBC Superchannel before joining Sky News as one of the main anchors. She won the Daily Mail's Media Personality of the Year Award at the GG2 Leadership and Diversity Awards and the Best Television News Journalist Award at the 2004 EMMA's for her work when hosting the first ever continuous live coverage of the Muslim Hajj from Mecca, Saudi Arabia for Sky News.

In 2005 Lisa moved back to ITV West to present their flagship evening news show and in 2009, Lisa and her team at ITV West won the Royal Television Society award for Best Regional News Programme.

Lisa Aziz is an Ambassador for the charity Gingerbread and is also on the Gala Committee of the Young Vic Theatre with The Prince's Trust.
You may also be interested in...