Nisha Pillai
Former BBC World News anchor and Panorama presenter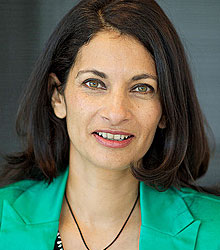 About
Nisha Pillai is best known as a BBC World News presenter; covering major news events including the 9/11 attacks on the Twin Towers, the fall of Baghdad and the collapse of the financial rescue plan in US Congress. She has also presented the BBC's flagship interview programme HARDtalk, with guests ranging from the late Sir Yehudi Menuhin and VS Naipaul to Phil Collins.

Nisha was born in Calcutta but spent her childhood in Bombay. She then attended a girls school in the UK, before studying at the London School of Economics. After leaving the LSE with a degree in Economics she went straight into the City and joined one of the City's leading merchant Banks' Schroders'. While immersing herself into the financial world of the City she felt the pull of journalism so she eventually moved to begin working for The Investors Chronicle as a Financial Reporter covering economics and City news for them.

Eventually Television beckoned and in 1986 she joined the BBC as a journalist working for 'The Money Programme' for BBC2, reporting stories from 'Big Bang' and The Stock Exchange. She started by reporting short inserts to the programme eventually hosting forty minute 'special reports'.

In 1990 she started working on the BBC's flagship Programme 'Panorama'. This was to be her television home for the next five years. She researched and presented in depth investigative documentaries. For one of these in 1992 she won a converted RTS Award for a programme exposing the financial peculiarities of Robert Maxwell. Another programme focused on Muslims in Britain, called Underclass in Purdah which predicted social turmoil and violence.

Eventually she felt the need to move on and try fresh fields. BBC World television welcomed her into their fold in 1995 where, amongst other programmes, she presented 'Asia Today' for BBC World News — a fast paced Programme focused on the Asia/Pacific region with lots of live interviews and breaking news — it required quick thinking and a cool head, qualities Nisha is blessed with in abundance.

With more than 20 years experience as a BBC presenter, today Nisha Pillai is a highly sought-after motivational public speaker and conference facilitator. Her lively panel discussions, snappy questions and humor are her trademark, yet always delivered with professionalism and her poised personality.
Speech Topics
As an accomplished news presenter with BBC World News Nisha Pillai now specialises in moderating panel discussions and high-level dialogues alongside hosting events and conferences. She has worked closely with several UN agencies, academic institutions like CERN, and a long list of global corporates. Nisha has among others recently worked with Kofi Annan, former Secretary General of the United Nations, in moderating at the annual conference of the Global Humanitarian Forum.

After Dinner Speaking
Nisha's speeches redefine audience engagement. She never just stands on the podium and talks, but moves around the hall, however vast, with questions, and banter at the ready. You'll walk out feeling not just motivated, but inspired too.

Outside of the BBC studio, Nisha Pillai has hosted important discussions such as between audiences in New York and Islamabad at the start of the Afghan war, and between the ordinary folk of New York and the Jordanian capital – Amman. On both occasions the gulf of comprehension between the two groups was striking!

Speech titles:
Networking with Ease: Nisha gets several hundred people out of their seats...networking
Getting Your Message Across: Using videos of great speakers to inspire the audience to become better communicators
T is for Terror: A motivational speech, drawing on Nisha's BBC experiences from reporting on the 9/11 attacks to the launch of the Large Hadron Collider.
Communication workshop: Learn the secrets of tv presenters to boost your authority. How to grab your audience's attention right from the start.
Testimonials
...After listening to you and watching you so often on the Television from London. I found it a real pleasure and, may I add, a great satisfaction to see you moderating at our Global Humanitarian Forum in Geneva. I am certain I am expressing the opinions of all of the 300 participants at the meeting in telling you how effective, forceful and charming you were in your new role. When the meeting flagged, you brought it to life with humour, wit or a pointed remark. When the meeting threatened to get out of hand with too many articulate people wanting to speak at the same time, you calmed things down and pushed the discussion along in the right direction. You were largely responsible for the successful tempo and tone of our initial annual conference and I wish to thank you warmly for your work...
Nisha Pillai has a unique understanding of the essentials of communication and more importantly how to adapt those principles to different executive situations. We asked Nisha to work with more than 200 senior executives who requested help to improve their communications and in a single half hour Nisha energized the room to help them see their strengths and their opportunities for improvement. The results were immediate and dramatic. Something I have seen few people do with such an audience.
I would just like to place on record the impact the speech has had on a fairly "change terrorised" organisation. For many folk it was a wake-up call for the need to re-evaluate...careers, priorities, life choices. I certainly had ambitions and goals for the event but how much more rewarding if we were able to provoke a deeper reaction that could be life changing. Thanks Nisha.
The UNDP in Columbo would like to thank Nisha wholeheartedly for making our event "come to life". Her professionalism, dedication and drive both before, during and after the event helped to make it an overwhelming success. Nisha Pillai's ability to quickly pick up on the subject matter and convey it in terms which engaged the audience made for a dynamic and extremely substantive discussion on human development and corruption in Asia and the Pacific.
Thank you for carrying out such a smooth event - managing the glitches, the time issues, the near 'speeches' and the diverse opinions - with such good cheer and dynamic participation. That bit I have started taking as a given. More importantly, your very quick mind ensured perfect digestion of the material and ensured that the many-layered content of the report got a good airing.
On 10 September 2008, CERN launched a new research machine, the Large Hadron Collider in what was possibly the most visible scientific event in history. Nisha Pillai played a vital role in the launch, teaming up with a member of CERN staff to provide a stimulating running commentary for the first nine hours of the start up process.This was webcast around the world. Nisha's job was to make good television out of an event at the cutting edge of one of the most esoteric of sciences, and which furthermore did not benefit from the kind of visual imagery of space programmes: in a way, she made gripping television without pictures. Through a combination of careful explanations of the event and an ability to convey a genuine sense of excitement, Nisha succeeded brilliantly.
Complex topics need simple, easy to follow and convincing communications. Your expertise and professionalism helped us to sharpen our messages and bring them across successfully. Thanks for being our coach.
I would like to thank you personally for your contribution in making our EMEIA partners conference such a success. You brought a great deal of warmth and energy to your role as host and your professionalism in handling multiple hand-overs and last-minute changes was particularly welcome! I would also like to thank you for the coaching your gave to (two E & Y partners). We have received excellent feedback on their session and I know they really appreciated the help you gave them with both their content and delivery.
You may also be interested in...