Rob Andrew MBE
Former Director of rugby, Newcastle Falcons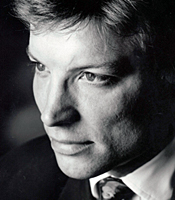 About
Nicknamed "squeaky", Rob Andrew is a former English Rugby Union player and was, until April 2016, Professional Rugby Director at the RFU. He was formerly the Director of Rugby of Newcastle Falcons and has been Chief Executive of Sussex County Cricket Club since January 2017.

Andrew was educated at Barnard Castle School, where he was contemporaries with future team mate Rory Underwood and was captain of the school 1st XV in 1981. He joined Nottingham for one season in 1985/86 and then joined Wasps FC where he was first choice fly-half throughout most of the eight seasons he spent with the north London club.

When rugby turned professional in 1995, Rob Andrew was still playing for Wasps RFC, however, in September that year he was approached by the then Chairman of Newcastle Rugby Football Club, Sir John Hall to join the club. Rob agreed terms and joined the club as Director of Rugby.

During his time in charge of Newcastle Falcons he is credited with discovering Jonny Wilkinson. In March 1999 the club was taken over by David Thompson, a local businessman and rugby enthusiast, and it was renamed Newcastle Falcons. Rob continued to play fly-half for Newcastle Falcons until September 1999 when a recurring shoulder injury forced his early retirement.

Andrew was fly-half for England during the Will Carling era, making a winning debut in January 1985 against Romania at Twickenham. For the next 10 years he was England's regular fly-half earning 70 caps, including 2 as captain. He made his final appearance for England after an absence of almost 2 years when he was called off the bench as a try scoring replacement against Wales in March 1997.

Rob Andrew played in 3 Rugby World Cup competitions; 1987 (making 2 appearances), 1991 and 1995. Curiously, just as Wilkinson had beaten Australia in the 2003 Rugby World Cup final with a drop goal, the last time Australia lost in the same competition was in 1995. In that year, it was Rob who nailed a drop goal on the stroke of full-time to beat the Wallabies 25-22. Four years before, it was another late drop-goal by him, in the semi-final against Scotland, that took England to the final against Australia.

In 1989 he had the honour of captaining the British and Irish Lions against France in a rare "home" match for the Lions. The game formed part of the celebrations of the bicentennial of the French Revolution.

Rob Andrew was also a talented cricketer and he made 17 first-class cricket appearances for Cambridge university cricket team in 1984 and 1985, as well as playing five times for Combined Universities in one-day cricket. A left-handed batsman and right arm off-break bowler, he made one first-class century, scoring 101 not out against Nottinghamshire in July 1984.

He also made a few appearances for the Yorkshire Second XI, and on one occasion dismissed future England captain Mike Atherton (then aged 17) for a duck. In November 2016 he was appointed chief executive of Sussex County Cricket Club.

In his other 'business' life, away from rugby, Rob Andrew was an Associate Director at DTZ Debenham Thorpe heading a team of surveyors advising investors on the buying and selling of commercial property in London. His work involved investors based in the UK and in all areas of the world, including Europe, the Middle East and the Far East.
Speech Topics
Rob Andrew is a respected figure on the corporate speaking circuit and in addition to after-dinner speaking, he also talks at conferences and workshops on leadership, teamwork and winning formulae.

In his presentations, Rob offers audiences an in depth look at the skills that have been a hallmark in his working life — as part of a team competing to make England one of the best Rugby Union nations in the world. His motivational speeches are the resulting outcome of his experiences, incorporating those on and off the rugby pitch with those of being part of a successful team in the business world.

This combination, in conjunction with Rob's powerful delivery, is testimony to the potential that exists in anyone who is prepared to work hard to realise their goals. Of course, to succeed at anything in life you need talent, but not only this (as in the case of rugby) you need to be able to work cohesively within a team environment.

There are very few people who can articulate the various elements that have made them the best in their sport; there are even fewer who can explain how this relates to their success in the work environment. However, Rob Andrew is such a person, he is an excellent example of how life's achievements can be combined in sport and business.

Rob Andrew has the natural ability of being able to tailor his presentations to suit the client's requirements. He incorporates an endless supply of witty anecdotal stories, and he can supply videos, which demonstrate and elucidate the impressive message he is conveying.
You may also be interested in...