Will Carling
Former England Rugby captain (1988-1996) with 72 caps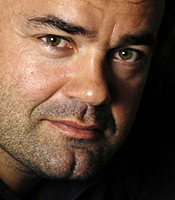 Copyright © John Cassidy
About
Will Carling was England's youngest and the world's most successful rugby captain, taking on the position at the age of 22 and steering the side to memorable back-to-back Grand Slam wins in 1991, 1992 and 1995 and to the World Cup Final, taking his retirement in 1996.

England's dramatic win over the touring All-Blacks in November 1993 meant that Will captained a winning team at least once against all of the world's major rugby playing nations.

His business career has been as impressive as his playing successes. From Sedbergh School and Durham University he was commissioned as Lieutenant in the Royal Regiment of Wales before moving onto a marketing post with Mobile Oil in 1988.

In 1991 he founded and became Managing Director of Insights Ltd., which presents motivational seminars to Captains of Industry by Captains of Sport. He also set up a sports hospitality and event management company called 'Will Carling Management Limited' whose clients include Reuters, Ericsson, Racal, BEA Systems, Intermec, Merrill Lynch and Regus.

He is currently one of ITV Sports Rugby presenters.
You may also be interested in...