Will Greenwood MBE
One of England's greatest ever rugby players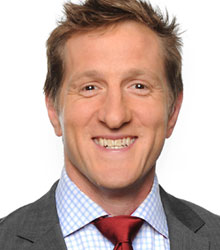 About
Some senior citizens may think that at 6 foot 4 inches and over 15 stones this chap should be in the second row! We can only presume that his dad Dick knew better and made sure that Will grew up with plenty of pace.

Will Greenwood is one of England's greatest ever rugby players as well as one of the sport's most engaging, intelligent, outspoken and witty characters.

1992 saw him at stand off for Durham University and Waterloo, and touring Australia with England under 21 in 1993 and the A team in 1995. By now he was at the Harlequins and playing in the centre, moving to Leicester in July 1996. The following year after many games for England A he was selected for the British Lions tour of South Africa.

After 6 games he was badly injured at Bloemfontein and had to return home early with a serious head injury. By November he was sufficiently recovered to gain his first England cap against Australia.

Amassing a total of 55 caps, Will announced his retirement to Rugby in 2006 and is now an analyst on Sky Sports, giving his own insight on the Rugby coverage. In 2007 ITV Sport signed up Will to be one of their Rugby Experts during their coverage of the Rugby World Cup. He has also become a writer for The Daily Telegraph's sports coverage.

His presentations on business are as incisive and thought-provoking as those in relation to his rugby career and the attributes required to perform in both professional arenas are central to his delivery of such talks, focusing on leadership, motivation and teamwork - themes that resonate across both careers.
Video
Click below to watch video footage of Will Greenwood MBE. To enquire further about Will Greenwood MBE for corporate and private bookings, please click here or call us on +44 (0)1372 361 004.
Books and DVDs
Below you'll find products by Will Greenwood MBE which may be available for purchase. Click the image to view on Amazon's website. Clients often like to purchase books and other merchandise as autographed give-aways at events where Will Greenwood MBE is appearing. For bulk purchases, please speak with the Booking Agent handling your event.
Tags for Will Greenwood MBE
You may also be interested in...