Brian Ashton MBE
Former England Rugby Head Coach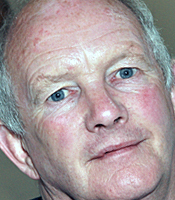 About
Brian Ashton is one of the UK's most experienced professional Rugby coaches, with over 30 years experience at International level. In the autumn of 2007 he led the England team, generally considered rank outsiders in the tournament, to a World Cup final with South Africa, with a quiet assurance and absolute belief in his management techniques that despite outside criticism proved to be world beating.

His individual and highly effective coaching style and straight forward personality give him the ability to lead others through extreme high pressure situations to achieve astounding results. His challenging approach to management, leadership and high level performance has as much resonance in the world of business as it does on the training pitch.

Brian said "The job of manager is as facilitator, your players or employees are the experts, which is why you select them. It is the role of the manager to create the vision and the correct environment for them to perform consistently well at the highest level."

Brian is a natural communicator, also speaking French and fluent Italian, who thrives on the pressure of question and answer scenarios. His insights into what motivates individuals and what makes or breaks a team are invaluable in the commercial arena whether managing a multi-national organisation or a family-run business.

Brian Ashton knows the meaning of pressure having been in the position where every result, negative or positive, is broadcast around the world. With this in mind he knows more than most the importance of looking forward from every event to the next challenge, a skill which is of equal importance in the commercial world.

Now you can share in his expertise as he explains his world class techniques to develop elite performance in both individuals and teams that can help you manage and grow your business. Discover his philosophy on Management by Instinct, Defining Performance Objectives and Individual Empowerment.
You may also be interested in...