Charles van Commenee
Former Head Coach of UK Athletics and leading expert on managing performance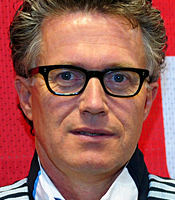 About
Charles van Commenee is one of the world's leading experts on managing performance and creating a high performance culture; initially as personal coach to a number of elite athletes who won medals at Olympic Games and World Championships, then as Technical Director for Dutch and British Athletics and finally as Performance Director for the Dutch Olympic Committee and later for British Athletics.

To enjoy not only a one-off success but rather a prolonged period of steadily improving back-to-back successes, one needs to build the right culture within an organisation. This is even more important in an environment where competition is strong and the margins for success are small. Under the guidance of a leader with strong coaching skills, team members are challenged and inspired to change, creating a climate where only the best is good enough.

Dubbed the "Volcano", the disciplinarian Dutchman pushes his athletes to the limit and makes a habit of exceeding targets. In 1994 Charles started working with British athlete Denise Lewis. Under Charles, Denise would go on to become champion at both the Commonwealth Games and European Championships in 1998 before taking a silver medal at the 1999 World Championships. At the 2000 Sydney Olympic Games Denise took gold to become Olympic Champion. She put much of her success and 'drive to win' down to the fact that Charles had been so focused.

Following his success with Denise Lewis, in 2001 Charles was appointed by UK Athletics as the technical director for the jumps and combined events. As director he took on responsibilities for British athletes including Dean Macey, Ashia Hansen and Jonathan Edwards, though they all retained personal coaches. In 2003, Kelly Sotherton joined his training group. Ranked 57th in the world for the heptathlon, she went onto to win the bronze medal at the 2004 Athens Olympics, though Charles was unhappy with Kelly feeling she could have won the silver. However Kelly went onto say "People have to remember that Charles was the one who got me in the position to be an Olympic medallist…I don't think any other coach could have got me to where he did."

In Britain, Charles van Commenee's achievements were rewarded by being honoured as the first foreign coach to be inducted in the 'British Coaching Hall of Fame'. Between 2004 and 2008 he held the position of Performance Director for the Dutch Olympic Committee responsible for all sports in the Netherlands. At the Olympic Games in Beijing 2008 Charles was named as Chef de Mission of the Dutch Olympic Team and as such was in charge of the complete team of 350 members resulting in their second best result ever.

Following the Beijing Games he returned to the UK to take up the role as Head Coach of the British Athletics Team for the 4 years leading into the home Games. London 2012 saw TeamGB win a formidable 4 gold medals including an incredible period that saw three Gold Medals won for the home team in 45 minutes on what since then is known as 'Super Saturday'.

Charles van Commenee proved to be a top Performance Manager in his various roles in elite sports. Through his leadership he successfully managed to mould his vision into large and complex sporting organisations. After 35 years of coaching experience, Charles now works as a motivational speaker for organisations like Shell, EY, Cap Gemini and McKinsey on topics such as Coaching, Performance Management and how to build a High Performance Culture.
Speech Topics
Charles Van Commenee was the mastermind behind 'Super Saturday' at London 2012, the most successful night in British Olympic history, and now offers organisations the chance share in over 30 years coaching experience and benefit from his outstanding record in getting the best out of individuals and teams.

One of the most important things about coaching is to make the athlete understand that talent is not the decisive factor when it comes to being successful. Success is an attitude, a choice that somebody has to make and for that reason it's not something that just happens by coincidence. Charles emphasises the importance of the 3 D's: that it's not only important to have an ambition or Desire, but also to have the Dedication to pursue that ambition and the Determination to follow it through to the very end.

With his wealth of experience in the field of Performance Management and coaching on a global level, Charles van Commenee truly understands the formula to winning performances. He has a reputation for leading his teams firmly, embracing a common sense approach coupled with great attention to detail. He demonstrates an excellent understanding of the international benchmarks and consequently knows what it takes to be better than the opposition. He is happy to explain how he operates, the rationale behind his methods and all with a good sense of humour.

What can you expect when you invite Charles van Commenee to speak at your event? In his motivational keynote presentation you will receive pragmatic yet inspiring messages, illustrated with a wealth of anecdotes, based on a proven successful approach that has delivered many great performances on a world stage. The 45-50 minute presentation is shaped in such a way so as to reinforce any messages you need conveying to your delegates and/or employees.

How To Build A High Performance Culture
What is the culture that underpins great success in sport? And how can Charles help you to built an organisation that produces sustainable success?

Performance Management: The 5 Steps Approach
In his various high profile roles in international sport, Charles has successfully managed to mould and implement his vision of performance into large and complex sporting organisations. He has managed that through a very structured approach of Performance Management: The 5 Steps Approach.

How To Experience Olympic Success
In his own typical manner, Charles van Commenee will share with your leadership team, organisation or business partners how to get the best out of an individual, a team and the organisation as a whole.

Based on a wealth of experience as both a Performance Director and Head Coach, Charles van Commenee can explain what Performance Management really means at the very sharp end of elite sport. He will elaborate on how to build a high performance climate within any organisation that has to compete in a highly competitive environment.
Testimonials
Charles van Commenee stimulated great debate about how business could harness his attributes for high performance cultures and he was generous with his time to support our delegates think this through. An inspirational speaker, combining an aura of excellence with down-to-earth pragmatism that enthralled our senior leaders.
The parallels you drew between your experience in elite sports and the challenges we face in our work every day were spot on. The response from our audience was overwhelmingly positive.
The leadership skills and techniques Charles van Commenee imparted were quite fascinating and triggered much discussion later that evening which was just the outcome we wanted. It was a most engaging and memorable hour which suited our conference and was a perfect finale.
Charles van Commenee delivered a one hour presentation on Leadership and Coaching at our annual conference. His messages and core themes were perfectly aligned to what we expect from our leaders and his coaching philosophy was one that we can all learn from and apply. His no compromise approach to accountability will ring true to any organisation that is serious about performance.
Charles van Commenee's presentation on Leadership and Coaching at our conference was spot on. His message about creating a high performance culture (and 'killing poor performance') was perfectly aligned to what we expect from our leaders. His 5 step approach to Coaching was one we can all learn from and apply. Speaking about the importance of accountability within a High Performance Culture he showed great credibility when he elaborated on why he decided to leave UK Athletics after what was seen as a majestic performance at the London Games
You may also be interested in...