Professor Sir Cary Cooper CBE
World leading expert on stress and Professor of Organisational Psychology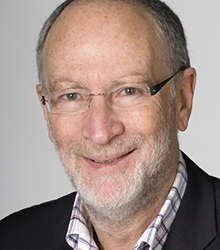 Copyright © World Economic Forum
About
Professor Cary Cooper CBE is 50th Anniversary Professor of Organisational Psychology and Health at Manchester Business School. He is recognised as a world-leading expert on stress and is the media's first choice for comment on workplace issues.

Professor Cooper holds many distinctions, including: Fellow of the British Psychological Society, Fellow of the Royal Society of Arts, Fellow of The Royal Society of Medicine, Fellow of the Royal Society of Health, Fellow of the British Academy of Management, Honorary Fellow of the Royal College of Physicians, Honorary Member of the Psychosomatic Research Society, Fellow of The (American) Academy of Management and Academician to the Academy of Learned Societies for the Social Sciences.

Cary is also the President of the British Association for Counselling and Psychotherapy, Editor-in-Chief of the Blackwell Encyclopedia of Management and author of over 300 scholarly articles in academic journals, author/editor of over 100 books and has been a contributor to many newspapers (Sunday Times, The Guardian, The Daily Telegraph, etc.) on topics of managerial and organisational behaviour.

He has been invited to give major addresses in international conferences and universities (e.g., International Monetary Fund, Hong Kong Occupational Safety & Health Commission, Free University of Berlin, University of Bergen, University of Stockholm, University of Tilberg, University of Braga, University of Amsterdam, Queens University (Canada), University of Virginia, etc.), and to government and international bodies all over the world: Japan, Norway, Denmark, Germany, Finland, US, Ireland, Russia, Sweden, Portugal, Australia, Hong Kong, etc.

He has appeared regularly on British radio and TV, and co-wrote and presented a five-part (30 minutes each) documentary series on work stress for Thames TV entitled How to Survive the 9 to 5, which was shown four times on Channel 4 in the UK. He has also been adviser to two United Nations agencies: the World Health Organisation and the International Labour Office on 'Occupational Stress and Health'.

Professor Professor Cary Cooper is one of 15 national Ambassadors of the Samaritans, a Patron of the National Phobic Society, a former Trustee of the mental health charity Mentality, as well as having worked for Comic Relief, Antidote and other charitable bodies. He was Chair of the 2002 International & Commonwealth Games Scientific Congress, held in conjunction with the 2002 Commonwealth Games.
Books and DVDs
Clients often ask about purchasing books for giveaways and delegate packs. Below you'll find a selection of products by Professor Sir Cary Cooper CBE. Click the images to view on Amazon's website. For bulk orders, please speak with your Booking Agent.
Tags for Professor Sir Cary Cooper CBE
You may also be interested in...