Martin Offiah MBE
The most famous Rugby League player Britain has produced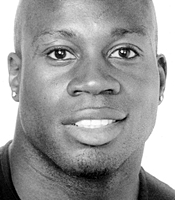 About
Martin Offiah MBE, is the most famous rugby league player the British game has ever produced. A dazzling runner and lethal finisher, he has scored over 500 tries in his career representing Widnes, Wigan, London Broncos and Salford.

One of only two players to have won the Lance Todd trophy twice, he has also represented his country, Great Britain with distinction, as well as playing union for the baa baas, England students, Roslyn Park, Bedford and more recently London Wasps.

Not bad for someone who didn't pick up a rugby ball until he was 11 and had never seen a live rugby league match until he signed for Widnes in 1987 from Rosslyn Park. In an ironic twist, Offiah became one of the few southerners to go north to seek his fame and fortune. After winning every honour in the game he returned south to join the London Broncos in 1996, helping to put them, and the game in the south on the sporting map.

He has become the greatest name in the rugby league game through his prowess on the field as well as his appearances off it. A regular guest on all the established sporting and quiz shows he has shown his versatility by appearing in both Emmerdale and Hollyoaks, a feat for which he is particularly proud. Martin also appeared in the play Mothers Day at the Lyric Theatre Hammersmith were he played the lead role of Benny.

Martin's services to rugby were suitably rewarded when he received the MBE. He has also been awarded an Honorary Fellowship at John Moores University in Liverpool, in recognition of his contribution to the game of rugby. Since Martin hung up his boots for the final time, he has focused his efforts on playing an increasing role on television, radio and the stage.
Performance
Martin Offiah is available for personal appearances, question and answer evenings, corporate days and media projects.
Testimonials
My sincere thanks to Martin Offiah for attending our Awards event at Newham College last week he did a great job and all was inspired about meeting and hearing his talk about his life and career.
Tags for Martin Offiah MBE
You may also be interested in...