Pui Fan Lee
BBC Cbeebies presenter and actor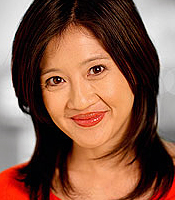 About
Pui Fan Lee is best known to young television viewers as one half of the inimitable CBeebies 'Show Me Show Me' presenting duo, along with friend and colleague Chris Jarvis. To a slightly older audience she is iconically remembered for playing the character of 'Po' - the red Teletubby - in the children's TV programme Teletubbies. Pui also provided the voice for Po and played the character throughout the entire filming history of the 'Teletubbies' 335 episodes from 1997-2001.

Pui was brought up in a Chinese Takeaway in Nottingham and, as a child actor, was cast in various television programmes and films such as, 'Murphy's Mob', 'Dramarama', 'Your Mother Wouldn't Like It' and 'The Worst Witch'.

After graduating from LAMDA, Pui worked in many TV, film, radio & theatre productions including 'Bridget Jones: The Edge of Reason', 'State of Play', 'MIT', 'The Bill', 'Desmonds', 'Mary Reilly',' Frank Stubbs Presents', 'Chef!' and 'Metrosexualty'. She also appeared in many Christmas shows for the London Bubble theatre company, 'The Baby' at The Bush, 'Moonshine' at Hampstead Theatre and 'The Lower Depths' for Cardboard Citizens. She also wrote and performed in her one woman show, 'Short, Fat, Ugly & Chinese' which was invited to play in Hong Kong and Singapore by the British Council and went on to win a 'Race In The Media' award for Best Radio Play after it was transcribed for BBC Radio.

In 2002, Pui Fan Lee and Chris Jarvis were the very first presenters to be broadcast on Cbeebies, the flagship children's channel, at the launch of BBC's digital channelling platform. As main presenters of CBeebies, Chris and Pui formed an inimitable double act, loved by children, their parents and carers alike. After seven years fronting Discover And Do and The Bedtime Hour, the duo put their heads together to start developing a new show and, under the creative direction of 'Something Special' producer Allan Johnston, 'Show Me Show Me' was born in 2009.

Chris and Pui also devised and write for the ever popular 'Old Jack's Boat' starring Bernard Cribbins which recently won an acclaimed RTS award. Being a trusted member of the Cbeebies family, Pui has made various other appearances for the channel, such as Justin's House, the Cbeebies pantos; Strictly Cinderella, Jack and the Beanstalk, Aladdin, The Christmas Carol, Fun with Phonics and Live at the Edinburgh Festival.

Alongside her hectic filming schedule, 'The Chris and Pui Roadshow' has been touring theatres since 2010, playing to over one hundred thousand children and their families all over the country. Pui lives in London with her partner, Nick and their two sons.
You may also be interested in...