Katy Ashworth
CBeebies television presenter (I Can Cook)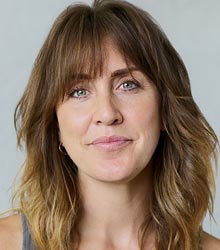 About
Katy Ashworth is a well known and loved face to thousands of children and their families across the UK.

A unique TV presenter bursting with tremendous warmth, likeability and infectious energy. She has an innate connection with younger generations and demonstrates a terrific passion for learning, fun and adventure. She is best known presenting on the BAFTA award winning TV channel CBeebies, on which she presents one of the channel's flagship series 'I Can Cook', which empowers children six and under to get cooking and learn where their food comes from.

Katy encourages the children on screen through music and games. The more recent series of 'I Can Cook with you' saw Katy travelling all over the country to farms and factories riding on combine harvesters and cooking with children nationwide. The series demonstrates Katy's personable nature with children and adults and her ability to make even walnuts funny!

Katy Ashworth is also a regular face in the CBeebies house presenting links between the shows. Katy energises her young audience with her ebullient personality in comedy sketches alongside her fellow presenters, but also calms them down with her charismatic and engaging storytelling skills. Her natural bond with children has developed from 8 years experience as a children's themed party entertainer, 5 years experience teaching under 6's drama and music and interactive storytelling shows.

As well as a TV presenter Katy Ashworth is an accomplished actress and singer. She has trained in Commedia Dell'Arte in Italy and improvisation in Paris and achieved a first class degree in Drama from the University of Exeter. She has taken the lead in several pantomimes, performed in front of 8000 people at Wembley on the Cbeebies live tours, presented live 'I Can Cook' shows in Butlins Resorts, has performed her live one woman interactive show for children at hundreds of theatres, festivals and other events in the UK and internationally and is currently singing with a 12 piece soul band for kids!

More recently Katy has begun writing and illustrating children's stories. Her writing style is quirky, silly and very personable and similar to that of Rudyard Kipling and Spike Milligan!! Her illustrations are in watercolour and ink and are inspired by Quentin Blake.

Katy spends her spare time immersed in music, friends and travel. She derives great joy in running both adult and children's choirs singing anything from pop to funk. She created the Exeter University Soul Choir, The Bristol children's choir and was one of the first directors for Rock Choir ltd. (as seen on BBC1) She has recently embarked on her exciting new project- the London Soul choir. She was the lead vocalist of a 25-piece big band and continues to sing in her small jazz band- The Sylvan Road Trio.

A keen globetrotter with an adventurous spirit, Katy recently climbed to the summit of Kilimanjaro for charity and plans to take on more exciting challenges around the world for the several charity organisations that she supports.

Katy is a breath of fresh air with a lot to give to the world of theatre and children's television. She is a popular host for corporate family fun days, award ceremonies and schools / youth events.
Performance
Katy Ashworth is a popular host for corporate family fun days, public events, award ceremonies and schools / youth events. She is also a popular performer at festivals and a myriad of events... from Christmas light switch-ons to shopping centres, store openings or school fetes!

Meet and Greet with Katy
Come and meet Katy Ashworth, she'll give you a hug or a hi-5 and you can take home a signed autograph and photo too!

Fun & Games with Katy
Join Katy Ashworth from CBeebies for a 45 minute show filled with Sing a long songs, interactive games and stories. All filled with silliness and fun that'll have your little ones belly laughing and jumping around with her. Katy kicks off her show by getting everyone (even the Mum's and Dad's) on their feet clapping and dancing along to some brilliant, buzzing tunes.

She follows with a series of fun, interactive games and songs finding out what everyone's favourite foods are and discovering the wonderful ways in which we can travel. You'll hear about Katy's trip to banana island where she learnt the hilarious sacred language of banana, which, she might even teach you if you're lucky. But prepare yourself Dad's as you might be dragged up on stage to help Katy make a banana milkshake! Storytime follows with a sit down interactive story, you might even be asked to play a part. Katy finishes off the show with a brilliant nursery rhyme megamix with everyone's favourite songs to sing along and dance to.

The show is followed by a short meet and greet with the children to sign autographs and take photos, and maybe even a high-5!

'I Can Cook' Live
Join Katy Ashworth in the 'real' I can cook experience from singing the washing hands song to the tidy up song! Katy will make a recipe from I Can Cook and if you're lucky enough you might even be able to get on stage and help her!

Filled with cooking, songs and even an interactive story, this show is great fun for large audience and all the family. The show is followed by a short meet and greet with the children to sign autographs and take photos, and maybe even a high-5!

Storytelling & Sing-along with Katy
Join Katy Ashworth with her guitar, her ukulele and her storybooks on the rug to sing along to all your favourite nursery rhymes, followed by a few of your favourite stories. This show is sutiable for much younger children and their parents. You can join in with the actions to the songs and help Katy tell the story by getting up to help her or simply joining in with the funny voices and sounds.

This is still a very fun show but much calmer and suitable for a smaller audience. The show is followed by a short meet and greet with the children to sign autographs and take photos, and maybe even a high-5!
Testimonials
Katy Ashworth had the audience eating out of her hand from the first few seconds. She was bright, bubbly and entertaining with a mix of songs, slapstick and chat, all of which required audience participation.
We have seen Katy Ashworth perform live now on three separate occasions and she has never let us down. She is so animated and child friendly, she really knows how to connect with them and is always ready and willing with a big smile for a photograph.
You may also be interested in...