Sid Sloane
CBeebies television presenter (Let's Play)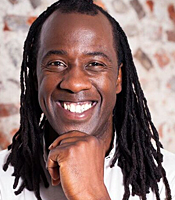 About
Sid Sloane is best known as a presenter on the BBC children's channel CBeebies. He also stars in the popular dressing up adventure programme "Let's Play" on the same channel.

Sid helped launch the CBeebies channel back in 2002 as one of the original presenters and in 2008 he launched CBeebies Africa. He has been hugely popular with the channel's fan base ever since, however it is his journey into the media spotlight that is most compelling.

It started with a brave decision to swap a successful career in sales to become a postman. With that change and the help of a bursary Sid Sloane paid his way through drama school at the Academy of Creative Training (ACT) in Brighton. From the outset his passion for acting and performing was ignited and just two weeks into drama training he landed the lead in a play performing at the Brighton Festival Fringe. He has never looked back.

Sid Sloane grew up on a 1970's south London council estate where drugs and crime were recreational and racism was commonplace. He is the middle of five children raised by a single parent. Sid left school with no qualifications and no real guidance for a future. He had many different jobs, and experienced various high's and lows before finding 'drama' as an art form and not a reaction to life.

Sid has many stories to tell about his experiences growing up in such a colourful environment. He is one of the lucky one's and knows it. To those that know and work with Sid he is a motivator, influencer, professional and hard working creative. And to those that really know him he is a calm, centred, peaceful presence. All of those qualities emanate through him.

Sid Sloane's first professional engagement came one year into drama training, playing a psychopathic lecturer in a Eugene Ionesco play 'The Lesson', which was sufficient enough to gain him entry into the professional actors union Equity (changing his name from Gary Gibson to Sidney Sloane). Having completed training a part as 'Ben' in his own production of a Harold Pinter play- 'The Dumb Waiter' was brought forward to allow him to perform as 'Presuming Ed' in a sell out two week theatre run of the world stage premier for cult film 'Withnail and I' at The Komedia, Brighton. This was immediately followed with roles in two Shakespeare productions, during which time he successfully auditioned for the main role as 'Narrator' in the Belgrade Theatre production of 'The Twits' taking on a No.1 UK theatre tour.

Sid has numerous theatrical and voice-over credits for CD's, television, on-line and on radio 4 drama's. He presented the 'Fantasy Series', a reality TV show for BBC3, held the Saturday Lunchtime slot on BBC Sussex and Surrey radio, and voiced schools maths educational aids as well as stories and links for his own album, Sid's Story CD, Sid & Rebecca's-Treasure Island. He has voiced CBeebies radio.

Sid Sloane is passionate about the transformative powers of theatre and is establishing 'Root4Kids in The Community' working directly to empower children from low socio-economic backgrounds. He is popular at festivals and family weekends presenting his live interactive children's show and is available for hosting corporate award dinners and delivering his powerful and inspiring motivational story.
Performance
Sid Sloane's Live Show
Sid Sloane's live stage show is packed full with fun characters, original songs, audience interaction and getting the kids involved. It's very colourful and there's plenty to see and do - it's a show for everyone and suitable for under 2's through to grannies of 90+. With a running time of between 30-55 minutes, Sid is very happy to hang around to meet the audience afterwards.

Empowerment For Children
Sid Sloane presents high-quality imaginative theatre for children. "LEAP" (Lifelong Empowerment Arts Programme) for underprivileged children. Facilitating change through the mind, body and spirit of theatre and supporting a stronger connection to education and learning. LEAP is a curriculum focused programme raising confidence, promoting positive action and providing an underpin for PSHE in schools.
Testimonials
Considering booking Sid Sloane for your event? You may find the following client testimonials and comments helpful. To enquire further about Sid Sloane for corporate and private bookings, click here or call us on +44 (0)1372 361 004.
It was an immense pleasure to have Sid Sloane join us to celebrate the Hartbeeps Annual Awards at Searles as our Host and Special Guest... The Awards address was a particular highlight from Sid and each category winner was made to feel special when he announced and awarded their prize.Clearly Sid had as much fun as we did. We were in awe of him and the professionalism that comes so effortlessly from him.
Sid Sloane performed his game show at Springfields and was such a hit with the crowds. A talented and enthusiastic performer who has such a special relationship with his audience. We hope to have Sid come back to Springfields again as he has been the highlight of our summer events so far!
Sid Sloane kept the atmosphere buzzing throughout the day... allowing just enough space for the themes and cause to bring people together. Sid's energy and enthusiasm are infectious! He can play an audience like a finely tuned instrument. His professionalism and attention to detail made the day easy to manage and an absolute pleasure. The time he took to meet and greet the artists as well as understand about their work made them feel special and appreciated. The artists and authors loved him as did the audience... I would recommend Sid Sloane for any similar family event.
You may also be interested in...