Phil Gallagher as Mister Maker
BAFTA nominated CBeebies children's TV presenter Mister Maker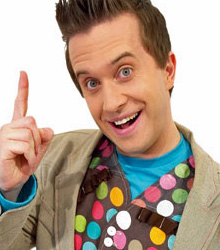 About
Phil Gallagher is a BAFTA nominated performer, best known for his role as the lead character in CBeebies' Mister Maker - the hit arts and crafts show for pre-schoolers.

Born in Gillingham, Kent, upon leaving university Phil's media career started as youth programme co-presenter and weekend sports reporter on BBC Radio Kent, before being offered a work experience placement at Disney. Moving into puppeteering on Playhouse Disney, he also worked both behind and in front of the camera for its daily live show, Studio Disney. Phil later worked on ITV1's Diggin'it as a performer, puppeteer and head script writer. The show was broadcast every Saturday and Sunday morning for over two years, from 2003-2005.

Phil has appeared as the title character in CBeebies Mister Maker since 2007 and in 2009 was nominated for the BAFTA Children's Award as Best Presenter for his role in the show. Since its first transmission Mister Maker has become a worldwide hit and now plays in over 100 countries around the world. In total, there have been five series of the show so far, including new adventures in Mister Maker Comes to Town.

He also appeared in two episodes of Bear Behaving Badly as the Robot Rat Catcher and the Mummy. Since 2009, Phil has also played the role of cycling enthusiast 'Mr Liker Biker' in the hit CBeebies comedy drama, Grandpa in My Pocket.

Off screen, Phil Gallagher continues to write scripts for a variety of different children's programmes including Big Barn Farm, Boblins, I Can Cook, Olly The Little White Van and Hotel Trubble. He also appears annually in Pantomime, having played the role of Wishee Washee in Aladdin, Silly Billy (Jack's brother) in Jack and The Beanstalk, Buttons in Cinderella and Muddles in Snow White and the Seven Dwarfs.
Tags for Phil Gallagher as Mister Maker
You may also be interested in...