Chris and Pui Live
Live interactive show with CBeebies presenters Chris Jarvis & Pui Fan Lee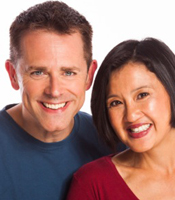 About
There are a number of very tight and close-nit duos on children's television, but perhaps none more so than the most beloved of all, Chris Jarvis and Pui Fan Lee who, since 2002, have entertained and enchanted young viewers on CBeebies. First as link-presenters and then with their own hit CBeebies programme "Show Me Show Me" which first aired in 2009 under the creative direction of Something Special creator Allan Johnston.

Written, produced by and starring Chris Jarvis and Pui Fan Lee, the fully live "Chris & Pui Show" is for all the family and features quick-fire gags, comedy sketches, dancing, songs and rhymes... plus that all-important ingredient for children's shows, bucket loads of joining-in and audience participation.

It's a high-energy, faced-paced, action-packed performance from the moment the curtain rises when Chris and Pui burst onto stage - featuring hundreds of props and recognisable characters from the TV show including Stuffy, Teddington, Miss Mouse, Mo Mo and Tom.

Sing, laugh and join in with Chris and Pui in this full-length show which is ideal for corporate family fun days!
You may also be interested in...