Piers Morgan
Television presenter, journalist and former Editor of the Daily Mirror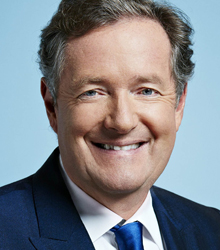 About
Piers Morgan studied journalism at Harlow College, beginning his career in local south London newspapers before being spotted by Kelvin MacKenzie of The Sun and given his own showbiz column, Bizarre.

Rupert Murdoch made him Editor of News of The World in January 1994; he was headhunted two years later to edit the Mirror where he stayed until May 2004 when he was sacked following the decision to publish photos of British soldiers apparently abusing Iraqi prisoners of war.

Since then, Piers Morgan has presented a number of TV shows - including "The Dark Side of Fame", "You Can't Fire Me, I'm Famous" and "Tabloid Tales" for BBC1. He shot to fame in the US as Simon Cowell's straight-talking Brit mate as a Judge on "America's Got Talent" and wowed American audiences to triumphantly win "The Celebrity Apprentice". Piers was also a Judge on the hit UK show, "Britain's Got Talent" until 2010 when TV commitments in America prevented him continuing.

2009 saw Piers with new series for ITV1 - "Piers On..." documentary travelogue programmes where he has VIP access-all-areas pass to some of the most glamorous locations in the world and his popular chat show, "Piers Morgan's Life Stories", an intimate and revealing interview, celebrating the life and career of leading stars from entertainment, business and politics. There are also one-off specials "When Piers Met..." an in depth interview at the home of the star, starting with Sir Cliff Richard.

His book, The Insider, private diaries of a scandalous decade, became an instant number one bestseller and sequel Don't You Know Who I Am? Insider diaries of fame, power and naked ambition topped the bestselling list. The next instalment, God Bless America, Misadventures of a Big Mouth Brit, is out now.

In addition, Piers writes a regular column for The Mail on Sunday on sports and his diaries appear in their supplement Live Magazine. For GQ magazine, Piers Morgan takes on celebrities in his regular monthly feature where he interviews some of the biggest names in entertainment, sports and politics.

Piers Morgan is available for after dinner speaking, awards hosting, live presenting and appearances.
You may also be interested in...