Susanna Reid
Good Morning Britain presenter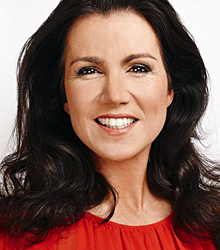 About
Susanna Reid is one of the most familiar faces on morning television as a host of ITV's 'Good Morning Britain' alongside Piers Morgan and Ben Shephard. Susanna covers some of the largest and most topical stories in the headlines, complementing these with interviews and reporting.

Prior to working for ITV, Susanna presented the BBC's morning topical news programme, 'BBC Breakfast' and hosted the BBC 1 discussion programme 'Sunday Morning Live'.

As one of the UK's most high profile news journalists, Susanna has interviewed many politicians and covered key breaking news stories including the terror attacks on Paris and Brussels; the results of the Independence Referendum in Scotland, the EU Referendum, the 2015 General Election and the US Elections live from New York. She's interviewed the Prime Minister and rival party leaders and was one of the last embedded journalists with British troops in Afghanistan, covering the inauguration of the new President in 2014.

In 2013, Susanna's career took a different turn when she was a finalist on BBC Strictly Come Dancing. Susanna has also become a familiar face during other live television broadcasting including stepping in for Andrew Marr on the Andrew Marr Show, live coverage of the Oscars from Los Angeles and
hosting the BBC's highly-rated show New Year Live in 2013 with Gary Barlow.

Susanna Reid was named by the Television and Radio Industries Club as the Newsreader of the Year in 2014 and 2015.

Susanna Reid has three children and is actively involved with her local primary school. Her interests include: education and health, children's issues, women's rights, foreign affairs, arts, books and journalism.
You may also be interested in...