Phill Jupitus
Stand-up comedian, music video director and popular TV gameshow panelist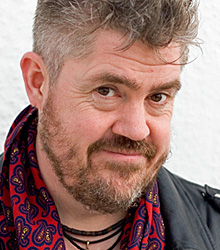 About
Phill Jupitus is a renaissance man with a jester's mind, a comic crusader with kryptonite wit, a naughty knave in a keyboard tie. He's one part Jedi, one part Nick Hornby and one part merry prankster with a crackingly good sense of humour.

And, after hosting the BAFTA Interactive Entertainment Awards (2000 and 2001), the Q awards (2001) and the Empire Awards (2002) Phill Jupitus may even become the arch nemesis of dashing MC's everywhere.

Phill became a television personality in 1996, when he joined BBC2's pop quiz Never Mind The Buzzcocks as a regular team captain. Anyone who's seen the show can attest to the chemistry of the irreverent Jupitus, especially when stirred by Mark Lamarr's dry martini delivery and fellow captain Sean Hughes' poetic charm. It's no wonder such an unpredictable, refreshing cocktail has earned a loyal following from day one.

It all started on a fateful day in 1984, when a disillusioned young Phill quit the Civil Service and started performing punk poetry, supporting bands including The Style Council, The Housemartins and Billy Bragg. Two years later, he began working for indie label Go! Discs - whose artists included Billy Bragg - where he eventually became press officer to The Housemartins.

Phill's passion for music has been well employed on BBC GLR (Greater London Radio), where he presented his own show from 1995 to 2000. He has also directed videos for Billy Bragg and the late Kirsty McColl.

In 1996, light sabre in hand, Jupitus performed his first tour of the UK with 'Jedi, Steady, Go' - a personal interpretation of the Star Wars story. In 1999, his second UK tour, 'Quadrophobia', was a huge success.

In 2000, Phill toured with Madness and in 2001 played with The Who at their Royal Albert Hall date in London.