Bill Bailey
Comedian and multifaceted classically trained musician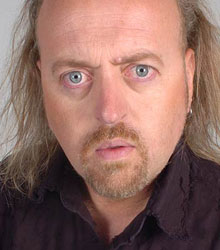 About
Born in a bath in 1946, sorry, born in Bath in 1964, Bill Bailey may look like a shambling ex-hippy, but beneath the long hair and new-age appearance, he is.

Actually, he is an all round entertainer, whose appeal transcends age, gender or coolness quota. He is quite simply, brilliant.

Bill is a classically trained musician, playing a wide variety of instruments, all of which he uses to coax cackles out of a helpless audience. Whether it be one of his many guitars, a didgeridoo or his keyboard, in the world of Bill Bailey music is the key to comedy.

Some of his routines include the rock-n-roll didgeridoo solo, Bach's Toccata uncontrollably turning into the theme from Ski Sunday, classical cockney music and Medieval Porn Soundtracks (Ah, fair maiden, I have come to fix the harpsichord...).

Starting out in 1989 in a double act called The Rubber Bishops, it took five years for him to go solo, and only a year after won a 1995 Time Out Comedy Award. In 1996 he was nominated for a Perrier Award and 1999 brought him Best Live Stand-up winner at The British Comedy Awards.

He has made guest appearances on Have I got News for You, Never Mind The Buzzcocks and Bring Me The Head of Light Entertainment amongst others and already has a Channel 4 sitcom Black Books and a six part BBC2 series Is it Bill Bailey under his considerable belt.

His next assault on our consciousness came in the form of the Brenda Blethyn movie 'Saving Grace' playing a very spaced out comic shop owner who helps Grace to sell her home-grown wares. Small part, but perfectly formed.

Bill Bailey is a regular contributor to various radio shows and wrote/performed in three series of Alan's Big One FM with fellow comedian Alan Davies. He was also a regular team captain opposite Phill Jupitus on the now defunct BBC pop music panel quiz show, Never Mind the Buzzcocks.
Books and DVDs
Clients often ask about purchasing books for giveaways and delegate packs. Below you'll find a selection of products by Bill Bailey. Click the images to view on Amazon's website. For bulk orders, please speak with your Booking Agent.
You may also be interested in...