Peter Snow
One of Britain's best known journalists, presenters and broadcasters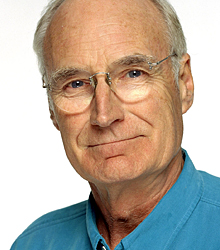 About
Born in Dublin, the son of a British army officer and the daughter of an Irish surgeon, Peter Snow is one of Britain's best known journalists and presenters. He started his broadcasting career at ITN in 1962 as a script-writer and reporter and began newscasting the same year.

He was appointed Diplomatic and Defence Correspondent in 1966, and for the next decade reported from all round the world. In 1979 he moved to the BBC to become one of the first (and regular) presenters of Newsnight when it began in January 1980. He later presented Tomorrow's World (from 1997 to 2001), and is also known for his lively contribution to the BBC's election coverage which he fronted until 2005.

In 2002, he made a programme for BBC TWO with his son, Dan, to mark the 60th anniversary of the Battle of Alamein: Battleplan. This led to them both presenting two further series – Battlefield Britain, featuring eight battles from Boudicca to the Battle of Britain which aired in 2004, and 20th century Battles (2006/7).

Peter currently presents Masterteam on BBC Radio 4 as well as Random Edition – a review of the newspapers from a day in history chosen at random.

Peter Snow is highly respected and much sought-after as a conference and business speakers as well as a presenter and conference facilitator/host. He is married to Ann MacMillan of the Canadian Broadcasting Corporation and has six children. He enjoys sailing, skiing, and model railways.
You may also be interested in...