Jeremy Vine
Political television presenter (The Politics Show & Newsnight)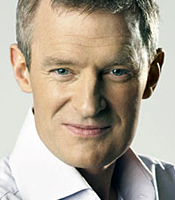 About
Jeremy Vine presents THE JEREMY VINE SHOW at lunchtimes on Radio 2. He also fronts the POLITICS SHOW on BBC1.

He's hosted 2 series of interviews, the first with pop stars, the second with actors entitled JEREMY VINE MEETS... for BBC1. His new series PAGE TURNERS, a book club programme for daytime television goes to air shortly for BBC 2. Formerly Jeremy presented NEWSNIGHT on BBC 1 was the BBC's Political Correspondent based at Millbank, and prior to that their Africa Correspondent based in Johannesburg.

During his time at Durham University Jeremy studied English and presented on Metro Radio in the middle of the night. His career in journalism began with a traineeship at the Coventry Evening Telegraph. He supports Chelsea Football Club, avidly.
You may also be interested in...