John Humphrys
Journalist and broadcaster (Best known for The Today Programme)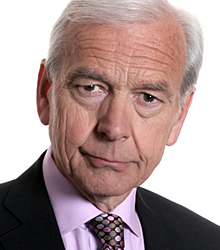 About
John Humphrys joined the BBC in 1966 as the district reporter for Liverpool and the Northwest, where he reported the dock strikes of that time. He then worked as a foreign correspondent and his reports included the resignation of Richard Nixon in 1973 on television by satellite from the United States and in 1977 when based in South Africa he covered the transformation of Rhodesia into Zimbabwe.

John Humphrys returned to London in 1980 to take up the post of BBC Diplomatic Correspondent. In 1981 he became the main presenter of the BBC's flagship Nine O'Clock News. This appointment marked a change in the BBC's approach to news broadcasting. With the appointment of Humphrys and John Simpson, the presenters of the news became part of the process of preparing the broadcast, rather than just reading a prepared script as with previous presenters.

John Humphrys has also presented Panorama and Mastermind. He has won many industry awards, including being named Journalist of the Year in February 2000 at an awards ceremony organised by The House Magazine and Channel 4; the Gold Sony Radio Award in 2003; and a silver platter for Crystal Clear Broadcasting from the Plain English Campaign.

John Humphrys has written several books, including Lost for Words, in which he criticises what he sees as the widespread misuse of the English language, plus 'Devil's Advocate', 'Beyond Words' and 'The Great Food Gamble'.

Humphrys is an agnostic, but has a curiosity to test his agnosticism and challenge established religions to see if they can restore his childhood belief in God. In 2006, he presented a BBC Radio 4 programme, titled "Humphrys in Search of God" where he spoke to leading British authorities on Christianity, Judaism and Islam to try and restore his faith.

John Humphrys is an accomplished and highly sought-after conference moderator, after dinner speaker and awards host.
Books and DVDs
Clients often ask about purchasing books for giveaways and delegate packs. Below you'll find a selection of products by John Humphrys. Click the images to view on Amazon's website. For bulk orders, please speak with your Booking Agent.
You may also be interested in...