Sarah Montague
Political correspondent and presenter of BBC Radio's flagship TODAY Programme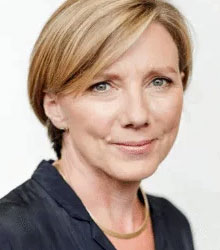 About
Since joining the BBC in 1997 Sarah Montague has presented BBC2's Newsnight alongside Jeremy Paxman and Jeremy Vine, BBC1's Breakfast with Frost, Evening News bulletins on BBC1, as well as being a key presenter on the BBC News Channel. She currently presents the TODAY programme on BBC Radio 4 alongside Evan Davis, John Humphrys and James Naughtie.

Sarah's career began in finance, working as a stockbroker for County NatWest and Eurobond dealer with Natwest Capital Markets, London. She then went into business with the owner of Charles Tyrwhitt Shirts, London, which was, and still is hugely successful. Sarah began her journalistic career with Channel Television in 1991. She joined Reuters in January 1995, and then became business correspondent for Sky News in January 1996. Sarah has travelled widely.

Sarah Montague works regularly in the corporate sector hosting conferences, chairing discussions and interviewing CEO's. She has hosted both the Nominet Forum and The British Property Federation Annual Conference for seven years running. She has also interviewed the Nobel Prize winners in Nobel Minds for BBC World News.
Testimonials
It was an absolute pleasure to work with Sarah on the Brit Insurance Design Awards. As awards presenter for the evening, Sarah's warmth and intelligence shone through and she had a great rapport with the audience. Sarah gave the awards presentation great pace while ensuring that the seven winning designs had their moment to shine.
We were very impressed with your ability to grasp some of the travel industry's... and your skill as moderator brought order to what would otherwise have been chaos!
Sarah's contribution was invaluable and helped make it a very enjoyable evening.
We would like to thank Sarah Montague very much for being our moderator. The day was a huge success and we have received some very encouraging feedback from our attendees. Sarah did a fantastic job and sounded like she has worked for Nominet for many years; she is very knowledgeable about our Industry.
You may also be interested in...