Peter Mehtab
One of the UK's premier and highly sought-after close-up magicians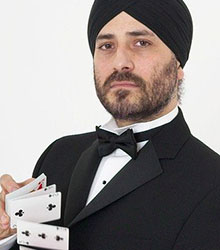 About
Peter Mehtab is one of the UK's premier close up magicians. He has won The Magic Circle's top award of Close Up Magician of The Year and was promoted within The Magic Circle to full member of the Inner Magic Circle with Gold Star; this is the highest level within the Magic Circle.

Peter's inimitable style has now enabled him to merge into the world of Society balls and private dinner parties. His full diary makes him the envy of fellow magicians and he has a long and varied list of venues to his credit including The Dorchester, The Hilton, The Ritz, The Landmark, The Lanesborough Hotel, Claridges, Leeds & Ripley Castle and performs regularly on board the world famous Orient Express.

Peter is booked for many business conventions, product launches, staff incentive and specialises in entertaining at business conferences and dinners; Peter has worked extensively abroad at private and corporate events recently working at The George V hotel in Paris.

Peter Mehtab has been booked by Mr Richard Branson to perform to some of his top clients in the United States of America. Peter was also chosen to perform for Sting and Trudie Styler at the 'show business wedding of the year'. He has performed privately for Sir Paul McCartney, Tom Cruise, and Her Majesty Queen Elizabeth II. And Peter was the selected wizard to perform at the latest Harry Potter film Premiere as well as several other Harry Potter end of production parties.

Peter Mehtab was booked to entertain at HRH Prince Charles 50th Birthday Celebration at Highgrove. Peter also performed at the Private Golden Jubilee celebrations held at the Ritz Hotel Hosted by Her Majesty Queen Elizabeth II and has since performed on four other occasions at parties hosted by Her Majesty including the largest children's party held at Buckingham Palace.

Peter Mehtab was especially chosen to appear in the James Bond movie 'The World is not Enough' where he appears in a scene with Pierce Brosnan, Robbie Coltrane & Sophie Marceau.

To watch Peter Mehtab perform is to be subjected to a dazzling display of bewilderingly clever and novel close-up magic and illusion. To witness the sudden appearance of goldfish in your brandy glass can lead to profound intellectual frustration – perhaps even a sense of awe – perhaps even a desire to throttle this young man who so casually defies the laws of nature.

What makes Peter's performance unique is that his magic is matched both by his stylish presentation and his lively wit. The net result leaves one elated, puzzled but marvellously entertained; Peter Mehtab is a master of his art.
Testimonials
Thank you so much for your wonderful work at The Golden Jubilee Rout. The evening was a wonderful success and fun was had by all who attended. Most importantly The Queen enjoyed herself immensely which was proved by her not leaving until after midnight. Your enormous talent contributed immensely to the success of the evening and it really was very kind of you to give your own contribution to The Queen's Golden Jubilee Year.
Thanks to you, my job is secured for life. Who knows, I might even be promoted to MD of Cartier, the evening was such a success! You really were a huge piece of the icing on the cake and your magic was greatly admired by everyone who attended the event.
Very impressed with both Barry Cryer and Peter Methab - Outstanding performances! Everything was flawless, much appreciated for the on-time attendance.