Richard Pinner
Award-winning Magic Circle close-up and stage magician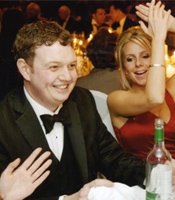 About
Richard Pinner is Vice President of the prestigious Magic Circle and Inner Circle member with Gold Star, in addition to being a multi award-winning magician.

Winner of The Magic Circle's prestigious "Stage Magician of The Year" in 2014, Richard was also The Magic Circle's "Close up Magician of the Year" in 1999 and in 2001 he was given the Cecil Lyle award for best original effect. In September 2003 Richard became the International Brotherhood of Magicians' Close up and Stage Magician of the year.

As a performer Richard Pinner has visited over 30 countries. With shows ranging from 4 minutes at a board meeting through support act for Victoria Wood to New Year's Eve Cabaret in New Zealand.

Richard Pinner is a highly skilled and experienced performer which, combined with his talents as a 'magical creator' (a bit like a real life Jonathan Creek), gives him the insight to visualise and perfect each aspect and detail of an illusion. Years of experience in creating such illusions for stage and screen means that Richard can make the impossible "Almost Impossible". Do you need a car to vanish before your eyes? A person to float in mid air? An audience to gasp in disbelief? Are you planning an occasion and want to mark it with a bang? Then look no further than Richard Pinner!

Richard also is in great demand by his peers in the magic industry, having travelled throughout the USA and to Australia and New Zealand to lecture at magic conferences and conventions.

On stage, Richard has transformed Rupert Everett in to a floating orange blob at the Hampstead Theatre and taught Jude Law the magic he needed to become Dr Faustus at the Young Vic. For the Film 'Miranda' Richard enabled Christina Ricci to have the skills of a practised card sharp. He was also called upon for the premiere of the final Harry Potter film when they needed to create some 'real' magic!

Magical consultancy credits include- Miranda (Film Four International), Monkey Magic (Five), The Quick Trick Show (ITV), The greatest tricks in the universe ever (Five), Secrets of Magic (BBC1) and in theatre; The Cherry Orchard (RADA), Dreams from a summer house (The Watermill), The Witches (Leicester Haymarket Theatre), Dr Faustus and Julius Caesar (The Young Vic Theatre), Some Sunny Day (Hampstead Theatre), The Grannie (Wimbledon Theatre).

Awards include:
The Magic Circle "Close-up Magician of The Year" 1999
IBM British Ring "Stage Magician of The Year" 2003
IBM British Ring "Close up Magician of Yhe Year" 2003
The Magic Circle "Stage Magician of The Year" 2014
Testimonials
Incredible feedback, utter professionalism and all three of you added literally a 'touch of magic' to last night's ball. We are overwhelmed here with the fund-raising total which is somewhere in the region of £280,000 and still counting!
Your wonderful table entertainment added greatly to the success of our event.
In addition to his marvellous skills, he has enormous charm and humour.
Richard's act was first class and I will have no hesitation in recommending him to others
You may also be interested in...