Nick English
Co-founder of Bremont Chronometers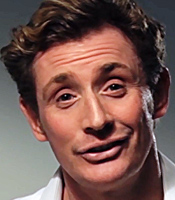 About
Nick English and his brother Giles are the founders of Bremont Chronometers which originated from their joint lifetime love and passion for engineering and aviation. Nick tells the inspiring story of how they overcame immense personal tragedy to create a truly unique world class brand.

They inherited their love of watches, clocks and all things mechanical from an early age as they grew up in the workshop with their talented engineering father, Dr Euan English, a PHD student of Aeronautical Engineering from Cambridge. As an ex RAF pilot Euan also taught the brothers to fly and was active in the historic aircraft industry both flying and restoring historic aircraft.
All their lives changed on the 4th March 1995 as Nick and Euan were training for an air-show in their WWII Harvard. Whilst practising formation aerobatics they got stuck in an inverted spin from which they failed to recover and their aircraft was involved in a horrendous accident. Euan died and Nick broke over 30 bones. This accident was a tipping-point in the brothers lives and provided the impetus to follow their passion for watches.

After the accident Nick and his brother ran the family aviation business but in 2002 set about forming a watch company. The aim was clear; they wanted to bring some of their engineering experience to create classical aviation inspired watches that could be used either in the boardroom or up Mount Everest. With no interest in quartz watches the brothers only wanted to make very high quality watches with the finest mechanical movements.

The Bremont company has become a huge success. Proud wearers of these special watches include the Olympian Sir Matthew Pinsent, actor Hugh Bonneville, actor and adventurer Charley Boorman, adventurer Bear Grylls, actor Ewan McGeggor, Polar adventurer Ben Saunders and even Gary 'Wingman' Connery who wore his watch when playing the Queen parachuting into the Olympic opening ceremony in 2012.

Bremont has been appointed official timekeeper at The Epsom Derby and the Boat Race, to name just two, and partnered with companies such as Jaguar and Norton. They are the official UK watch supplier and timekeeper for Walking With The Wounded's South Pole Allied Challenge.

They have created many limited editions including a range illustrated with special artwork from Ronnie Wood as well as HMS Victory, using actual parts of oak timber and copper from the original ship. Their latest watch Codebreaker uses parts of an original Enigma machine from Bletchley Park. Military Squadrons all over the world continue to choose Bremont as their watchmaker of choice.

Recent Awards include the Luxury Watch Brand of the Year 2012 for the 2012 Jewellery Awards, National winner of the UK Global Connections Competition 2013 – an HSBC initiative to find the UK's most innovative and forward thinking companies and many more.
Testimonials
Guest speaker Nick English took us on a fantastic trip through their business, describing how he and his brother turned a catastrophic event into an everlasting legacy to their father, themselves and British ingenuity. The feedback from attendees was that they found the story to be very interesting and inspirational and "very proud to be British".
A huge thank you for speaking at our conference. Our audience of family business owners were enthralled and inspired by your story, and by your determination to establish and grow a quintessentially British, luxury brand with your brother Giles. From the heartbreaking tale of how the business was inspired, to the insights into what it takes to make a luxury brand succeed during these testing times; your presentation covered it all. Feedback from our delegates was overwhelming with many people appreciative of your honesty, the insights you shared and gratitude for the advice you gave which they could take away and apply to their own family business.
Nick English has a great story to tell, the rise and rise of Bremont being no accident but the fruit of hard labour and creative thinking. Two of the most vital ingredients of Bremont's success have been the deep interest in watch making and the fascinating hinterland that both Nick and his brother, Giles, bring to their business (both are keen pilots – how many companies that make pilot's watches actually have a company plane?). Nick's account of the inspiration behind Bremont and its birth and development is full of interest and he reveals a deep passion for his work. It's an incredible story to tell and he delivers it with belief, wit and humour.
You may also be interested in...