Jo Malone
Creator of Jo Malone, one of the world's most recognised luxury fragrance brands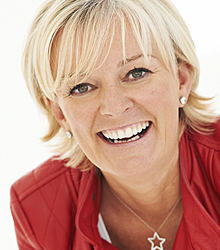 About
Jo Malone opened her first store at 154 Walton Street, London in 1994. The store was unique, recreating the atmosphere of French perfumer's studio, and quickly became a destination that put Walton Street firmly on the map. It was in the creation of this store that the core values of the Jo Malone brand were developed - a result of Jo's passion and inspiration.

October 1999 was a landmark occasion for the Jo Malone brand, when Estée Lauder announced the acquisition of Jo Malone. Jo remained Chairman, developing products and constantly challenging convention by introducing revolutionary concepts which helped to firmly establish Jo Malone as an innovator within the beauty and lifestyle industry.

Jo spearheaded the worldwide positioning of the Jo Malone brand until January 2006 when both she and her husband Gary left the business.

In 2008, Jo was honoured with an MBE for her services to the beauty industry.

In 2010 Jo turned her talents to television presenting making her debut on BBC One in May. The four part series 'High Street Dreams' conceptualised by Jo herself, saw her back in the tough world of retail using her business experience and entrepreneurial spirit to help small businesses realise their dreams of trading on the great British high street. The show successfully helped to create six new British Brands. "High Street Dreams was born from my desire to help create new jobs and businesses for the future, which I passionately believe can help to strengthen our struggling economy and breathe hope and new life into British industry. After building my own successful business, I looked around me and felt frustrated that small businesses and entrepreneurs weren't being encouraged or equipped with information to help them get ahead. Having had 20 years hands-on experience I felt driven to nurture people who had the passion to succeed but lacked in confidence and business acumen."

2011 marked new business beginnings as Jo Malone announced the launch of Jo Loves… her new fragrance brand which captures the things in her life that inspire her, from ingredients and people to moments in time. Jo's new creative approach also encompasses a love of colour and the bold red and black branding looks set to create a smart and stylish statement across the globe.

Jo Malone is a highly sought after, engaging and popular keynote speaker throughout the UK and Europe.
You may also be interested in...