Neil Fox
Magic FM DJ, Pop Idol judge and Harley Davidson enthusiast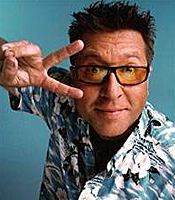 About
'I have been in the music business for over 20 years now, and feel like the luckiest fella on the planet as I still wake up every day looking forward to getting back on-air'.

And that gives you a good idea as to why FOXY has been so successful as one of the world's top radio broadcasters for so many years. He loves what he does...as does his audience. Since getting his first break working for Radio Wyvern (Worcester, UK) back in 1986, then moving on up to the mighty 208 Luxembourg in early 87, he moved to the world famous 95.8 Capital FM in September of that year and has been giving 100% ever since!

National status came in 1993 when he was picked as the new host of The Pepsi Chart... which Foxy seized with both hands and made his own. It became the most-listened-to Top 40 and remains the number 1 countdown to this day. And Foxy has become a radio legend. In 2001 he won the International radio personality award in New York and picked up yet another Sony for his broadcast while running the London Marathon. This brings his total International awards to 4, his Sony tally to 8, (including UK radio personality) and he is still Smash Hits readers' favourite national DJ for the 6th year running!

Foxy is currently on-air 6 times a week on Capital, presenting his BIG DRIVE HOME from 4 till 8 Monday to Friday, and the networked Pepsi Chart on 100 of the UK's hottest stations from 4 till 7 on a Sunday afternoon.

He is seen as the face and voice of pop music in this country and is constantly in demand as 'the expert' on daytime TV and the news. And those years of experience in music and TV were highlighted on POP IDOL, ITV's flagship Saturday night prime-time rollercoaster ride to find a new music superstars!
You may also be interested in...