Jamie Theakston
TV and radio presenter (Heart FM Breakfast Show)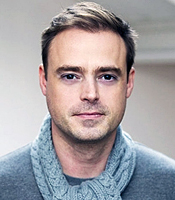 About
An established TV and Radio presenter, Jamie Theakston has become a household name in Britain thanks to roles on mainstream terrestrial shows such as Live and Kicking, Top of the Pops and more recently, through his regular work on Heart FM.

Jamie's career kicked off after he teamed up with Zoe Ball in September 1996 on a brash new series of the Saturday morning show Live & Kicking on BBC1. It was an instant success, earning a BAFTA award and generating double the amount of viewers of any other Saturday morning show. After 3 years Jamie decided to move forward and explore other projects.

He landed his first main TV presenting role on BBC2's The Ozone in 1999 after acting as a regular host on Top of the Pops in 1998, interviewing stars such as Madonna, David Bowie, Tina Turner, Oasis and the Spice Girls.

In 2000 he was approached by Channel 4 to co-host The Priory with Zoe Ball which led to 3 consecutive and successful series' and in the process gaining recognition as one of the best live TV presenters currently at work in the UK.

Whilst trying turning his hand toward directing and producing, Jamie quickly became a key anchor for the BBC, covering the much hyped Eclipse screening, being the quiz master for A Question Of Pop (BBC1's top rating Saturday night show), and hosting BBC's Glastonbury and The Millennium Show.

After being invited to launch a weekly two hour radio show on Radio 1 in 2000, Jamie's radio work developed further in 2001 as he undertook his first regular sports show for BBC Radio Five, quickly gaining high acclaim from The Daily Telegraph who documented; "This is the man who has made cricket hip". Jamie continued his TV work with Channel 4's ratings winner 100 Greatest Kids Shows, as well as hosting Natural Born Losers and a holiday show You Call The Shots, both for BBC1.

Stage success soon followed in 2002 where Jamie took the lead role of 'Serge' in Yasmin Reza's smash hit play Art, produced by Sean Connery. Taking on a role previously performed by such theatrical luminaries as Tom Courtney, Nigel Havers and Art Malik, Jamie attracted widespread acclaim for his assured performance. His second theatre project soon followed - playing Frederick Lowndes in Somerset Maugham's comedy drama Home and Beauty at the Lyric Theatre, London which also received rave reviews.

More acting offers followed, including a guest appearance in the highly rated BBC1's comedy/drama, Linda Green and in 2003 Jamie filmed his first major acting role for BBC1's Murder in Mind.

Jamie provided live coverage of The Oscars for Sky, and filmed a second series of The Games for Channel 4. In September 2008, he joined World Cup legends and other top celebrities for Soccer Aid at Wembley Stadium, in aid of UNICEF and its partners. In October 2009, he returned to our TV screens alongside Zoe Ball to host the brand new prime-time series Britain's Best Brain, produced by Tiger Aspect Productions and GroupM Entertainment for Five.

In February 2005, Jamie joined Heart 106.2 fm as the co-host of the station's flagship Heart Breakfast show working alongside Harriet Scott.
You may also be interested in...