Rob Brydon
Award winning comedian, star of The Keith Barret Show and Gavin & Stacey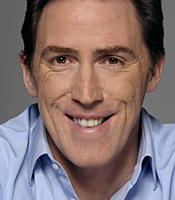 About
Rob Brydon was born in Swansea, South Wales on 3rd May 1965. He grew up in Baglan nr Port Talbot, before moving to Porthcawl where his interest in acting flourished under the guidance of Porthcawl Comprehensive School's drama teacher, Roger Burnel.

After school Rob began a three year course at The Welsh College of Music and Drama in Cardiff, but left midway through the second year to become a radio presenter for nearby BBC Wales.

There then followed six years of presenting work on local television and radio, during which time Rob would perform the odd comedy pieces including, on Radio 5's 'Rave' with Alan Thompson, the early days of Keith Barret. Whilst at the BBC Rob joined the Bath based improvisational comedy group 'More Fool Us', where he met Julia Davis with whom he would go on some years later to make the award winning 'Human Remains'. Leaving Cardiff for London, Rob worked mostly as a voice artist on animations and commercials until his role as the traffic warden in 'Lock, Stock and Two Smoking Barrels' prompted him to make a short video of comic characters he had created. The video, 'Rob Brydon - An Extremely Unlucky Traffic Warden' finished with Cardiff cabbie Keith Barret chatting cheerily to a camera fixed to the dashboard.

Awards
British Comedy Awards 2000 Best Newcomer, Marion & Geoff
Royal Television Society Awards 2000 Best Newcomer, Marion & Geoff
South Bank Awards 2000Best Television Drama, Marion & Geoff
Broadcasting Press Guild of Great Britain Best Entertainment, Marion & Geoff
British Comedy Awards 2001 Best Actor, Human Remains
Banff TV Festival 2001 Best International Comedy, Human Remains

Television
The Keith Barret Show
Directors Commentary
Marion & Geoff
Human Remains
Cruise of The Gods
The Way We Live Now
Murder in Mind
A Small Summer Party
I'm Alan Partridge
Black Books

Film
Mirrormask (2005)
Tristram Shandy (2005)
24 Hour Party People
Lock, Stock and Two Smoking Barrels

Television
As a guest on The Oscars 2004 with Jonathan Ross, Ronnie Barker: A BAFTA Tribute, Richard and Judy, Parkinson, Friday Night with Jonathan Ross, This Morning, Today with Des and Mel, Top Gear, QI and Comic Relief.
Video
Click below to watch video footage of Rob Brydon. To enquire further about Rob Brydon for corporate and private bookings, please click here or call us on +44 (0)1372 361 004.
Books and DVDs
Below you'll find products by Rob Brydon which may be available for purchase. Click the image to view on Amazon's website. Clients often like to purchase books and other merchandise as autographed give-aways at events where Rob Brydon is appearing. For bulk purchases, please speak with the Booking Agent handling your event.
You may also be interested in...