Alexander Armstrong
British comedy actor, writer and television presenter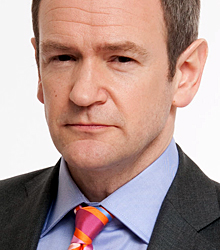 About
Alexander Armstrong – also known as Xander – is a comedy actor, writer and television presenter best-known for playing one half of comedy sketch show duo Armstrong & Miller. He is recognisable as a regular host on the satirical panel quiz Have I Got News For You and was the face of the Pimms (2002-09) and Direct Line insurance long-running advertising campaigns.

Alexander studied at Trinity College, Cambridge, where he was also a member of Cambridge Footlights and the college choir. After graduating, he moved to London with some friends to pursue a career in acting and comedy. Whilst waiting for acting roles he worked in a string of North London bars and restaurants. In 1991 he was introduced to Ben Miller and in 1996 they performed at the Edinburgh Fringe Festival together where they were nominated for a Perrier Award.

1998 was Alexander Armstrong and Ben Miller's breakthrough year, when they landed a Radio 4 series and a TV series, produced for Channel 4 and the Paramount Comedy Channel. The show ran for four series and included such characters as Scandanavian heavy metal band Strijka, the drama Nude Practice and hip middle-class presenters Craig Children and Martin Bain-Jones.

They dissolved their partnership in 2000 to forge separate careers, but Alexander reunited with Ben Miller for one-off charity gig in London celebrity hangout The Groucho Club in 2005. This re-ignited their partnership and led to their prime-time BBC One show in autumn 2007.

Alexander Armstrong was chair of the short-lived comedy panel show Best of the Worst and presented the ITV1 comedy quiz series Don't Call Me Stupid. He has been a frequent guest host on Have I Got News for You, having appeared more than 20 times - the most appearances of any guest, whether as host or panelist. In 2008, he was the presenter and narrator for When Were We Funniest? and was the only person to feature in all twelve episodes.

In 2010 he featured in an episode of the BBC series 'Who Do You Think You Are?' where he discovered that he was a descendant of William the Conqueror. Alexander has also appeared in a number of films including Jackboots on Whitehall, Skellig, Matchpoint and Churchill – the Hollywood Years.

In December 2011, Alexander starred in the Doctor Who Christmas Special, The Doctor, the Widow and the Wardrobe and in 2012, he played "David Bullingdon MP" (a parody of David Cameron) in Hacks, a television satire based on the News International phone hacking scandal.

Alexander Armstrong is an accomplished comedian who is very much in demand as an after dinner guest speaker and awards host.
Testimonials
It was great…and Xander was great…very professional. Thank you!
I just wanted to let you know my client thought Xander was a lovely man (I think she's a bit smitten) did a fantastic job and they all loved him!
Books and DVDs
Clients often ask about purchasing books for giveaways and delegate packs. Below you'll find a selection of products by Alexander Armstrong. Click the images to view on Amazon's website. For bulk orders, please speak with your Booking Agent.
Tags for Alexander Armstrong
You may also be interested in...