Giles Coren
Writer, broadcaster and television presenter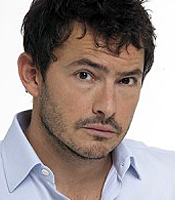 About
Giles Coren is a writer, critic, columnist and television presenter. For the last nine years he has been the Times' restaurant critic and has written a weekly opinion column for them for even longer than that. In 2005, he was named 'Food and Drink Writer of the Year' at the British Press Awards. In the same year, his first novel, 'Winkler', won the Literary Review's Bad Sex Award. His 1997 'autobiography' of James Dyson, 'Against The Odds', did not. But it was a bestseller In Britain, America and Japan.

He co-presented the first series of 'The F-Word' with Gordon Ramsay in 2005, hosted Five's 'Movie Lounge' in 2006, and in the same year wrote and presented 'Tax The Fat', a controversial documentary for More4 which made him no friends in the fat community.

In 2007 he co-presented, with Olivia Judson, Channel 4's three part documentary series about bio-technology in the food chain, 'Animal Farm', and then with Sue Perkins, Coren starred in Edwardian Supersize Me; the two spent a week on the diet of a wealthy Edwardian couple, for a BBC Four documentary shown in December 2007. The pair were reunited for a series (The Supersizers Go…) broadcast in May 2008 on BBC Two and then again in 2009 they hosted The Supersizers Eat…, which began with an episode on the cuisine of the 1980s and went on to look at the 1950s, 1920s, the French Revolution, Medieval culture, and ancient Rome.

His series with Sue Perkins, 'Giles and Sue Live The Good Life', aired on BBC2 to ravew reviews in November 2010, and his new book, 'Anger Management for Beginners', has recently been published in paperback by Hodder.

Giles project of 2012 was presenting Dangerous Roads with Phil Jupitus. He also presented Food: Made in the UK in 2011, and worked with Sue Perkins in Giles and Sue – The Good Life, where the two, in celebration of The Good Life's 35th Birthday, recreated the life of the leading actors in the 1970′s sitcom by finding out what it takes to be self-sufficient.

In 2013, Giles Coren went from strength to strength, firstly presenting 'Passover: Why Is This Night Different?' for BBC1, where he explored the annual ritual meal undertaken by the Jewish community on Passover. He then finished the year in style, co-presenting '12 Drinks of Christmas' with Alexander Armstrong on BBC1 again.
You may also be interested in...