Jay Rayner
Food critic, author and TV personality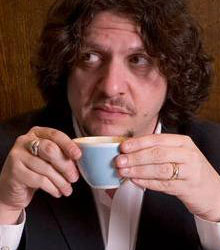 About
Jay Rayner is a journalist, writer, broadcaster and food critic. He is perhaps best known for his Observer food column, and also presents a weekly report on The One Show alongside Chris Evans. 

Jay has been a restaurant critic for over a decade, written reviews of well over 700 establishments, and if there is one thing he's learnt it is that people like reviews of bad restaurants.

Having written for a wide range of publications including GQ, Cosmopolitan and the New Statesman, Jay is the winner of Young Journalist of the Year, and Critic of the Year at the British Press Awards. His first novel, The Marble Kiss, published in 1994, was shortlisted for the Author Club's First Novel Award and his second, Day of Atonement (1998), was shortlisted for the Jewish Quarterly Prize for Fiction. His first non-fiction book, Stardust Falling, was published in 2002 and was followed by his third novel, The Apologist, published in the US as Eating Crow, in 2004.

Beyond writing, Jay has found success presenting Papertalk, a radio show about the newspaper business, for which he won a Sony Radio Award. As a critic, Jay regularly pops up on Masterchef, is on the daytime cookery show Eating with the Enemy, and sits on the panel of judges for American show Top Chef Masters. He also hosts Radio 4's off-beat food panel show The Kitchen Cabinet.
Speech Topics
Jay Rayner speaks candidly about the importance of good service, and the huge advantage of resembling Marco Pierre White. Following the success of his Channel 4 show Food, he continues to explore food industry issues, and the global impact of predicted food shortages.

In his one man performance, My Dining Hell, Jay examines our love affair with lousy reviews, reads from accounts of some of the most excruciating nights out he's ever had, looks at the worst reviews his own work has ever received, and invites the audience to give his performance a review in real time via Twitter. A hugely entertaining hour in the company of the man recently voted the best food and drink journalist in Britain.
Books and DVDs
Clients often ask about purchasing books for giveaways and delegate packs. Below you'll find a selection of products by Jay Rayner. Click the images to view on Amazon's website. For bulk orders, please speak with your Booking Agent.
You may also be interested in...