Grace Dent
Columnist, author, broadcaster and The Guardian's restaurant critic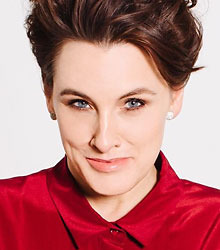 About
Grace Dent is a columnist, author, broadcaster and The Guardian's restaurant critic.

Grace Dent had two weekly columns in the Independent: an opinion-editorial column each Wednesday, and Grace Dent on Television each Saturday.

Grace's restaurant column Grace & Flavour appeared in the London Evening Standard every Friday for seven years until taking on the revered role of restaurant critic for The Guardian.

Grace has fronted documentaries for Sky Atlantic, Channel 4 and W. Recently Grace presented ON Romance for W, interviewed Game of Thrones author George RR Martin for a one off special and was a presenter on Thronecast. Grace has fronted the Radio 4 documentaries Duration Duration Duration and a tribute to Nancy Mitford.

Grace is a regular show guest, having appeared twice on Have I Got News For You, The Now Show, BBC2's The Review Show, Film 2012, The Culture Show, Delete Delete Delete, Very British Problems, The Apprentice, Masterchef and Charlie Brooker's Screenwipe and recently contributed to Channel 4's The Great British Sex Survey. Grace regularly hosts events for BAFTA and Sky.

Grace has written eleven novels for teenagers. Grace's Diary of a Snob novels about the schoolgirl Poppet Montague Jones were acquired by Nickelodeon. Grace's first non-fiction title was How To Leave Twitter (My Time as Queen of the Universe and Why This Must Stop).

Her latest project sees Grace presenting The Untold on BBC Radio 4. These observational documentaries give a real insight into British lives where something is at stake. The Untold has been nominated for an ARIA twice. In addition, 2017 saw Grace become the Curator of London Food Month alongside Tom Parker Bowles which won Best Debut Event at The Event Awards 2017.
Books and DVDs
Clients often ask about purchasing books for giveaways and delegate packs. Below you'll find a selection of products by Grace Dent. Click the images to view on Amazon's website. For bulk orders, please speak with your Booking Agent.
You may also be interested in...