Jonathan Ross
One of the UK's most loved chat show hosts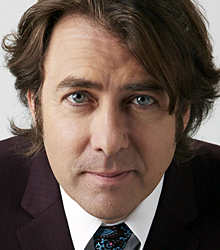 About
Charming, garrulous and extremely funny, Jonathan Ross is an award winning TV and radio presenter and has forged a place as one of the UK's most loved and highly respected television personalities.

With his charismatic personality and inimitable style, Jonathan Ross is extremely popular at corporate functions for hosting award ceremonies, annual dinners and compering events. Known for his gift of the gab he will always tailor each presentation and make it his own.

In 1991 and subsequent years Jonathan has compered the British Comedy Awards. In 1999 Jonathan became Barry Norman's successor to the BBC One flagship film show. He now hosts his own chat show on BBC1 Friday Night with Jonathan Ross.

Jonathan lives in North London with his wife Jane Goldman, their three children Betty, Harvey and Honey, and a menagerie of pets including a dog, cat, iguana, two salamanders, 2 chinchillas and a number of ferrets. In 2005 Jonathan was awarded the OBE for services to broadcasting.

TRIVIA: Jonathan is the brother of media personality Paul Ross. The two brothers were actually given each other's name by their parents (Jonathan is actually Paul and Paul is actually Jonathan), but decided to use the names they currently use early in their lives.
You may also be interested in...