Alan Carr
Award-winning stand-up comedian and presenter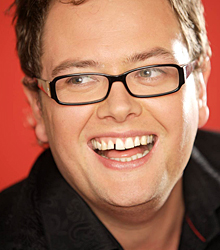 Copyright © Pete Dadds
About
Since winning the BBC New Comedy Award for Stand-up 2001 and CityLife Best Newcomer of the Year, Alan Carr has risen to become one of the hottest stand-up stars in Britain. The success of the first series of his own chat show, Alan Carr: Chatty Man, in 2009, led to Channel 4 immediately commissioning a further three series' plus a Christmas Special.

In 2002, his Edinburgh Festival show 'Me 'Ead's Spinnin' earned a four star review in Edinburgh bible, The List as well as the The Daily Telegraph's Critic's Choice. There were no surprises then, in 2003, when 'I Love Alan Carr' was rated a four star show in both the The Scotsman and The Independent, but it was at the Edinburgh Festival in 2005 that things really started to happen for our Alan. He earned five star reviews across the board in The Independent, The Scotsman and Three Weeks as well as numerous 'Pick Of The Fringe' accolades. It was here that Alan came to the attention of the Channel 4 bigwigs.

Alan Carr has appeared at comedy festivals all over the world, Melbourne, Montreal's 'Just For Laughs' and Kilkenny as well as touring the length and breadth of Great Britain with his 'Tooth Fairy' and Spexy Beast tours. Alan doesn't just perform for commoners, he has performed for her Majesty The Queen at the Royal Variety Performance too!
Books and DVDs
Below you'll find products by Alan Carr which may be available for purchase. Click the image to view on Amazon's website. Clients often like to purchase books and other merchandise as autographed give-aways at events where Alan Carr is appearing. For bulk purchases, please speak with the Booking Agent handling your event.
You may also be interested in...