Matt Lucas
Comedy actor and co-creator of Little Britain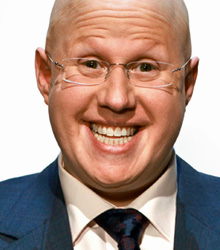 About
Matt Lucas is undoubtedly best known for co-creating and starring in Little Britain alongside David Walliams. Since its transition from BBC3 to primetime BBC1 the show gained a phenomenal global following.

Matt Lucas made his debut on the London stand-up comedy circuit at the age of eighteen in 1992, appearing as the character Sir Bernard Chumley. His long association with Vic Reeves and Bob Mortimer started in the same year, five weeks after his first gig, when he was talent-spotted by Mortimer.

Matt played the Edinburgh Festival in 1994, returning with his long time collaborator David Walliams with their Bernard Chumley and Friends show over the next three years. Also in 1994, Lucas appeared in The Smell Of Reeves And Mortimer, before embarking on four series of the BAFTA award-winning Shooting Stars as George Dawes, the giant drumming baby 'with the scores'.

He has also worked with Vic and Bob on It's Ulrika, Bang Bang It's Reeves And Mortimer and Randall And Hopkirk Deceased.

Matt Lucas and David Walliams' series Rock Profiles garnered them an increasing audience but they really struck gold with Little Britain which has achieved enormous success. The duo won Best Comedy Show and Performance gongs at the 2004 Royal Television Society Awards and a BAFTA for Best Comedy Series. Little Britain was developed from the Radio 4 show, which won a Silver Sony Award.

Matt has also written for a number of newspapers and publications and for other comedy talents including Ali G. He has appeared on stage and the big screen, popping up in a cameo role in the film, Shaun of the Dead and on David Baddiel's 'The Infadel' (2011). He played Leigh Bowery in the original cast of the Boy George-scripted musical Taboo.
Speech Topics
Matt Lucas is an ideal awards host for corporate events and is also available for 'fireside chats' and formatted Q&A session discussing his life and career, plus other themes relevant to corporate audiences such as creativity, diversity & inclusion, and the process / reasoning behind the creation of the Little Britain characters.
You may also be interested in...