Moira Stuart OBE
BBC newscaster (Breakfast News, Nine O'Clock News & Six O'Clock)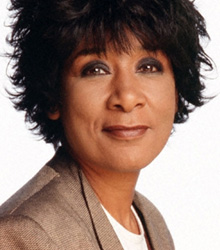 About
Moira Stuart has presented Breakfast news bulletins since the launch of the programme in October 2000. She currently presents the news on Chris Evans' BBC Radio 2 Breakfast Show.

During a career in television spanning more than two decades she has presented News After Noon, the early evening 5:40 News, the Nine O'Clock News, the Weekend News and the Six O'Clock News. She has also presented a variety of programmes on radio and television including The Quincy Jones Story, the Best of Jazz, Open Forum, The Holiday Programme and Have I Got News For You?.

She started her BBC career as a production assistant in Radio's Talks and Documentaries Department in the 1970s, before moving on to become a BBC Radio 4 announcer and a newsreader and programme presenter. Moira moved to television news in 1981 to become the first female African-Caribbean newsreader, presenting every type of BBC News bulletin before leaving in 2007.

Moira was voted 'Best Newscaster of the Year' in 1988 by the TV and Radio Industries Club Awards, and in 1989 'Best Television Personality' by the Women of Achievement Awards. In 1994 Moira was named 'Best Female Television Personality' by the Black Journalists' Association, and in 1997 'Best Media Personality' by The Voice newspaper. In 2001 Moira Stuart was awarded the OBE, and the following year the EMMA Awards named her 'Media Personality of 2002'. She received an Honorary Doctorate from the University of Edinburgh in 2006, and also received an Honorary Doctorate from Canterbury Christ Church University at Canterbury Cathedral in 2013.

Moira Stuart has served on various boards and judging panels including Amnesty International, The Royal Television Society, BAFTA, United Nations Association, the London Fair Play Consortium, the Human Genetics Advisory Commission, the Orange Prize for Literature, the BUPA Communications Panel, the IVCA and the Queen's Anniversary Prize, and the Grierson Trust.
Performance
Moira Stuart is highly sought after in the corporate world to chair conferences and seminars, and is a highly skilled conference facilitator. She has a wealth of experience hosting events and award ceremonies, both at home and internationally.
Testimonials
We would like to pass on our particular thanks to Moira Stuart. Many of the delegates commented on how charming and professional she was and how well she handled the Q&A session which was not always easy. She was a credit to her profession.
We were really pleased and had great audience feedback - the students really liked Moira and she really helped the event run smoothly. The event commissioners were definitely pleased - she's so lovely.
Moira was Amazing... she also said what a fantastic lady she is to work with and doesn't think she's ever laughed with anyone as much as she did last night.
Tags for Moira Stuart OBE
You may also be interested in...